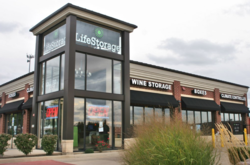 This event is about customer feedback and opportunity, specifically to help clear some seasonal space.
Mokena, IL (PRWEB) April 18, 2012
LifeStorage, Chicago self storage provider for home and business, records management and office solutions, is holding a Spring Garage Sale Event at its Mokena facility on Friday April 20th and Saturday April 21st, from 10am to 2pm each day. Back by popular demand after the success of its Fall Garage Sale, LifeStorage Mokena Store Managers Kelly Butt and Megan Tolbert intend to make this a bi-annual occurrence, holding Garage Sales in both the spring and fall each year for the foreseeable future. The event is open to more than just LifeStorage tenants, so interested parties, both residential and commercial, are encouraged to act now and reserve a spot for the event.
"The garage sale last year was requested by tenants. This year, we're opening it to all interested parties. If you're a community member and have a lot of excess items, odds and ends, things you no longer need but have value, this event is perfect for you as well. All spots are free to boot!" Butt said. "Last year's Fall Garage Sale was such a success, Megan and I knew this was a perfect way to give back to our customers, and by holding the event twice a year, treasure hunters and bargain shoppers have twice the chance to find a hidden treasure or two."
On top of free spots and access, LifeStorage Mokena is handling all the advertising for the event to drive as much traffic to the facility as possible. With spring here and the weather warming up, seasonal items and clutter can become overwhelming. Butt sees this as an opportunity for LifeStorage to provide for its customers and its community. "The opportunities to add charity and community events here at the Mokena property add to the customer experience with LifeStorage and to who we are as a company," Butt said.
"This event is about customer feedback and opportunity, specifically to help clear some seasonal space, but we try to balance the business and community sides equally. Megan and I have our fingers crossed for good weather, lots of foot traffic and visitors, and a lot of support for the event. We're very much looking forward to it!"
LifeStorage Mokena is located at 8531 W 191st Street, Mokena, IL, on 191st Street between Harlem Avenue and LaGrange Road. For more information on the Garage Sale or Move-In Special, please call 815-464-0500.