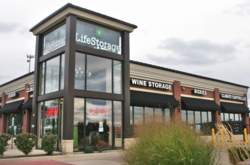 Mokena, IL (PRWEB) July 19, 2012
LifeStorage, Chicago self storage provider for home and business, records management and office solutions, is holding a Summer Garage Sale Event at its Mokena location (8531 W 191st Street, Mokena, IL), on Friday, July 20th and Saturday July 21st, from 10am-2pm. This will be the third Garage Sale for LifeStorage Mokena, so Store Manager Kelly Butt is already a pro at setting up and promoting to get maximum exposure. Utilizing the Mokena Patch news sites through the Mokena and Tinley Park Chamber of Commerce to spread the word, while also branching out online through Craigslist and FaceBook, Butt has a system down that's helped garner a lot of participation and positive feedback.
"Our last event in April was a hit, there were cars lined up just waiting for us to start and some of the best, most direct feedback we received was 'This is awesome' and 'What a Great Idea.' The tenants are so excited and we are proud to offer them such a venue to sell their goods and services," Butt said. "Each Event sees more and more people, and more and more positive feedback. We're expecting this one to be the best yet."
Each event has also seen a rise in the amount of merchants that have requested space. Some of the current and past participants include: Rasmussen College, Brannigan Chiropractic Center, Color Me Brown Toys, Michelle Interiors, Crest Construction, Nascar Bob Toys and Things, South Town Newspaper, Avon, AJ Jumpers, Sports Clips of Mokena, Chamber of Mokena, Sedona Staffing, Applebrook Reality, The Funky Zebra, Celebrating Homes, Robert Remblake Contracting, Fred Astaire Studios.
By providing opportunities for not only LifeStorage customers and community members, but also community businesses, LifeStorage Mokena has taken the next step in networking and really connecting to the community in every facet. Butt and her staff work diligently to keep abrest of the needs and demands of all areas of their business, and ultimately, give back whenever they can by listening to feedback and requests.
"LifeStorage in Mokena has grown in the community over the last year of ownership as we had just celebrated our one year anniversary as Life Storage. We are proud of the achievements our facility has made to our fellow businesses and neighbors," Butt said. "The tenants are so excited and we are ecstatic to offer them such a venue to sell their goods and services, and the Mokena community enjoys the opportunity to come out and purchase goods from our many vendors. We're looking forward to the coming weekend and hope to see you there!"
For more information on the Garage Sale or Move-In Special, please call 815-464-0500.
Since 2002, LifeStorage has been helping people simplify their lives by providing clean, secure, convenient and affordable self-storage solutions.
Located throughout Chicago and the surrounding suburbs, you can always find a nearby climate-controlled LifeStorage facility to fit your needs. Whether you're looking for business storage (pharmaceutical, legal, financial), everyday storage (furniture, files, equipment, vehicles, boats) or office suites (furnishes or unfurnished) our courteous and professional Property Managers help you find the storage or space solution that directly meets your needs.