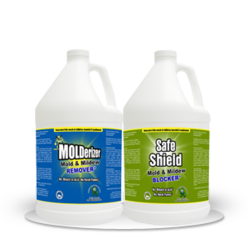 ...the two solutions [Molderizer and Safe Shield] are made with natural ingredients. And so unlike other mold sprays, they are both eco and health friendly.
New York, NY (PRWEB) February 11, 2013
Mold compromises indoor air quality. For that reason, mold remediation must be implemented to preserve the safety that an indoor environment offers. And so anyone could achieve the same results that professional mold contractors get, My Cleaning Products advised the use of its non-toxic mold remediation solutions. Moreover, it revealed that the said products are the contractors' secret for earning $1000 and more with their mold cleaning businesses.
According to My Cleaning Products, it is moisture that triggers mold growth. And because it is impossible to completely keep moisture away, it said that everyone, especially house owners, must learn how to do the mold remediation process.
To clear mold away, the site said one could actually replace each item the spores infest. However, it said that could bring too much expense. Alternatively, one could also choose to hire a mold contractor to do the treatment. But then again, it stated even that will require big spending.
Nevertheless, given that mold infestation is a health risk to anyone exposed to it, My Cleaning Products emphasized that it needs to be promptly treated. Particularly, it cited that mold, especially black mold, could cause allergies, fatigue, fever and rashes. And at worse, mold exposure could lead to nausea, vomiting and even lungs and nose bleeding.
So, to clear mold infestation, avoid those enumerated mold health risks and keep indoor air quality safe without spending too big, MCP said that one should instead apply mold remediation sprays. Besides cutting the expenses, mold treatment via the products also makes the process simpler, it added.
However, among the many mold removal solutions, My Cleaning Products only recommended Molderizer and Safe Shield. It detailed that the two solutions are made with natural ingredients. And so unlike other mold sprays, they are both eco and health friendly.
Moreover, MCP stated that both products had been proven effective by mold contractors that they even use the two solutions in their own mold treatments. In fact, the site related that they have reported saving $1000 and more with the use of them.
Specifically, that's because Molderizer and Safe Shield make it much easier to do the mold removal and mold prevention processes, My Cleaning Products explained. And as they are easier to complete, contractors could do them by themselves. That cuts their labor costs given that they don't need to pay for employees anymore for their businesses to continue to operate.
That financial benefit, both Molderizer and Safe Shield could also deliver to house owners said MCP. And so, because of that and their health and structural help, it highly recommended the products. But before purchasing them, it urged the owners to get complimentary samples of the solutions first. That's so they could prove themselves that the sprays could truly deliver a safe and effective mold remediation while cutting the labor cost, said the site.
Molderizer and Safe Shield are available at MyCleaningProducts,com, MCP relayed.