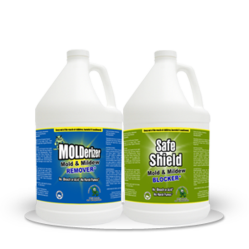 My Cleaning Products specified that the mold sprays to use must be organic. That way, aside from being effective, the mold treatment process is also made safe...
New York, NY (PRWEB) February 15, 2013
Because of mold, Hurricane Sandy victims continue to struggle up to this day. And to alleviate their suffering, according to a report from rocklandtimes.com, Senator Carlucci pushed a legislation that seeks to speed up the process of insurance claims for black mold. My Cleaning Products also expressed its intention to help the affected residents by offering them samples of its mold remediation solutions.
Based on the report, the New York Senator called mold as a "real, serious threat to our health." However, he added that insurance companies failed to see that and the need of the affected residents to get the mold infestation cleared. And so, he pursues the said black mold legistlation to address the issue.
The report detailed that the legislation basically set time frames as to when the insurance providers must respond to the house owners' request for inspection. And as it related, particularly, the bill, if passed, would require the companies to do that within six days. As to whether or not the claim is approved, it would obligate providers to notify homeowners within 15 days.
Below is a part of the said report.
"In response to the Artrip's situation and those of other homeowners, Carlucci stated that he is pursuing legislation which will speed up the process by which insurance companies handle claims for black mold, setting time frames where providers must respond to homeowner requests for inspection within six days and notify them of whether or not their claim has been approved within 15 days.
"I've been throughout the state-places that were really been hit hard by Sandy-and people have really come together to help clear the roads and get houses up and running," Carlucci said. "But unfortunately, the insurance companies just haven't gotten the message."
Agreeing with the senator that mold is indeed a danger to health, My Cleaning Products though stated that flood victims are not the only ones vulnerable to mold presence. Given that mold growth is triggered by moisture and that water is always used at home, it stated every house is actually susceptible to mold infestation.
And so, to the Sandy flood victims and all the other homeowners, the company advised the use of mold remediation sprays. It stated that with solutions ready, one could implement a prompt mold removal as its infestation could still occur despite taking preventive measures.
However, My Cleaning Products specified that the mold sprays to use must be organic. That way, aside from being effective, the mold treatment process is also made safe, it stated.
Among the many mold solutions available though, the company asserted that Molderizer and Safe Shield are the best. It said that they are truly effective and safe as proven by mold contractors. In fact, they are the mold remediation products the company offered to Sandy victims to help solve their mold problems.
With the safety and effectiveness that both Molderizer and Safe Shield bring, My Cleaning Products said that they are the best mold sprays that anyone could get. And to prove that themselves, it also encouraged all mold sufferers to try a sample of them.
Molderizer and Safe Shield complimentary samples are available at MyCleaningProducts.com, shared MCP.