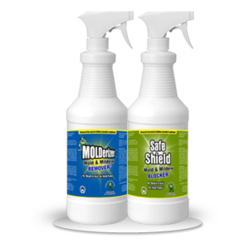 My Cleaning Products asserted that mold remediation must also be safe apart from prompt and effective.
New York, NY (PRWEB) February 15, 2013
In celebration of the Valentine's Day, My Cleaning Products announced a present for all mold sufferers. It declared that it's now offering 20% discount on its green mold remediation products. Moreover, it also said that it's giving out complimentary samples of them.
Mold, according to My Cleaning Products, is a big threat to anyone exposed to it. Its spores could contaminate indoor air quality. And when inhaled, they could cause various health problems. Allergies, coughing and asthma are just some of the less serious conditions that it could bring. However, severe cases of exposure could cause lung and nose bleeding.
Due to the health risks that mold infestation could bring, the company said it is imperative to treat it as soon as possible. And as it added, that mold treatment is especially needed in houses.
My Cleaning Products stated that among others, residences are some of the most vulnerable places to mold presence. It explained that the reason is the daily use of water at home. Because moisture triggers mold growth, it elaborated that the everyday use of water creates conducive areas for mold infestation in houses.
To prevent mold from invading a home, one could take several preventive measures, said the company. However, it stated that those measures don't guarantee that mold would never appear in houses. And so, it emphasized that one must learn how to implement an effective mold remediation process. Apart from improving indoor air quality and protecting the people's health from several mold risks, it pointed out that it could also save furniture pieces and other items from complete ruin.
Actually, there are several methods of mold remediation that one could implement, stated MCP. But among them, it cited the use of mold sprays as the best pointing that it offers an easy and prompt way of mold treatment.
Nonetheless, My Cleaning Products asserted that mold remediation must also be safe apart from prompt and effective. So of all the mold solutions available, it only recommended Molderizer and Safe Shield. It related that both products are made of natural ingredients, so they pose no chemical health risks while effectively eliminating mold and preventing it from coming back.
But more than just encouraging the public to pick both Molderizer and Safe Shield, it also urged them to purchase them this week. As it said, until Friday is the best time to get the said mold remediation sprays as they are put on sale.
My Cleaning Products declared that for its Valentine's Day Special, it decided to sell both products with 20% discount. Apart from that, it's offering them with zero shipping charge. To get them, it detailed that shoppers just need to type in the coupon code "LOVE" at checkout.
But for those who would want to test the said mold remediation solutions first, the company added that it's also giving out complimentary samples of them.
And for anyone who would want do directly purchase them, they are available for order at MyCleaningProducts.com, a company representative shared.