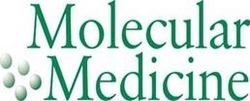 Manhasset, NY (Vocus) May 21, 2010
In the latest issue of Molecular Medicine, cystic fibrosis (CF) continues to challenge scientists. There is growing evidence that increases in protease activity may be central to the pathogenesis of this lung disease. A team of scientists at the University of Alabama measured a common protease called MMP-9 in CF patients whose condition is stable and compared it with healthy volunteers. Previous studies have shown increases in MMP-9 in CF patients in the throes of an acute pulmonary episode. In the latest study, scientists at the University of Alabama in Birmingham reported that MMP-9 levels were also higher than normal in CF patients with no active airway inflammation. The findings may point the way to new therapeutic agents that work to reduce pathological changes.
In other studies in the latest issue of Molecular Medicine, a team of Brazilian scientists tested the activity of a novel angiotensin converting enzyme (ACE) in thrombus formation in animals that were either hypertensive or not. They reported that the pharmacological activation of the ACE2 receptor with the experimental ligand reduced platelet attachment to vessels and thrombus formation. These results suggest that this could be a potential lead compound for the treatment of thrombogenic diseases.
Other findings in the journal include a pivotal discovery of immune regulation of cancer cells, an endogenous factor that works in wound healing, a gene therapy study on Fabry Disease, a study on the immunological properties at work in Celiac disease, and a new molecular fingerprint of lung injury.
Molecular Medicine is published by The Feinstein Institute for Molecular Research. The peer-reviewed journal strives to understand normal body functioning and disease pathogenesis at the molecular level, which may allow researchers and physician-scientists to use that knowledge in the design of specific molecular tools for disease diagnosis, treatment, prognosis, and prevention. The journal, a bimonthly publication, serves as a forum through which scientists and researchers can communicate recent discoveries to a multi-disciplinary, international audience interested in understanding and curing disease.
To listen to the latest podcast on these studies visit http://www.molmed.org/podcast.html.
###