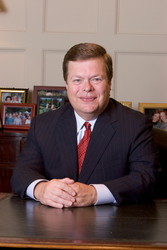 Jackson, MS (PRWEB) August 21, 2009
In the August 10, 2009 edition of Pensions & Investments magazine, Dick Molpus, President of The Molpus Woodlands Group, LLC, is featured in several quotes concerning how timberland has become a hot topic among investors because of inflationary concerns. Mr. Molpus also discussed his expectations for timberland prices in the eastern U.S. over the coming year. In its article entitled 'In Early Stance, Public Plans Barricade Doors, Fearing Inflation Could Harm Their Portfolios,' Mr. Molpus was quoted as saying: "There is considerably more interest in timberland than I have seen in years…Historically, timberland has been a strong inflation hedge…Some 60% of the returns are derived from biological growth, which protects the corpus of the investment."
Mr. Molpus went on to state that this is a 'critical juncture in timberland investments' and that he expects prices 'in the eastern U.S. to drop 15% to 20% from the highs of the last several years.'
For more information on 'In Early Stance, Public Plans Barricade Doors, Fearing Inflation Could Harm Their Portfolios,' by Pensions & Investments magazine, please visit Pensions & Investments magazine.
"Written for pension, portfolio and investment management executives at the hub of this market, Pensions & Investments provides its audience with timely and incisive coverage of events affecting the money management business. Written by a worldwide network of reporters and correspondents, Pensions & Investments' coverage includes business and financial news, legislative reports, global investments, product development, technology, investment performance, executive changes, corporate governance and other topics crucial to the people who drive the world of professional money."
The Molpus Woodlands Group, LLC, a Registered Investment Advisor, was founded in 1996 as a Timber Investment Management Organization ("TIMO"). With its sister operating companies, Molpus has a history in the timber industry dating back to 1905, Molpus finds itself as one of the oldest timber-related companies in the nation with experience in all facets of timber management, manufacturing and marketing. MWG is one of the few TIMOs that is vertically-integrated with all core business and forestry functions handled or supervised by in-house experts .
MWG and its sister operating companies employ 63 people in their twelve offices located in Alabama, Kentucky, Louisiana, Michigan, Mississippi, New York and Oklahoma. MWG acquires, manages and sells timberland as an investment vehicle for pension funds, college endowments, foundations, insurance companies and high net-worth individual investors. The company focuses on ensuring long-term optimum cash returns on investments while practicing responsible forest stewardship. In conjunction with the third-party marketing firm, Molpus Woodlands Advisors, with offices located in Massachusetts, Mississippi, Oregon and Tennessee, MWG is able to continue the tradition of servicing the needs of its clients.
###