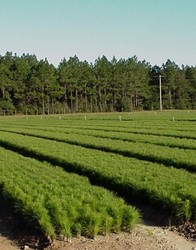 Hattiesburg, MS (PRWEB) December 18, 2008
The Elberta Forest Tree Nursery, owned by Joshua Timberlands LLC and managed by Molpus Timberlands Management, LLC, is currently accepting pine and hardwood seedling orders for the upcoming planting season. Three pine and thirty hardwood species are available.
At the Elberta Nursery, professional nurserymen use the utmost care, commitment and dedication in growing genetically improved seedlings from a superior seed source. Whether for your own tree farm, for planting a tree in your yard or even if you want to purchase seedlings for a tree planting program, act today, so that you can reserve the exact species that you want.
Visit Molpus.com for a current price list or download an Elberta Forest Tree Nursery Order Form.
About The Molpus Woodlands Group, LLC:
The Molpus Woodlands Group, LLC, a Registered Investment Advisor, was founded in 1996 as a Timber Investment Management Organization ("TIMO"). With its sister operating companies, Molpus has a history in the timber industry dating back to 1905, Molpus finds itself as one of the oldest timber-related companies in the nation with experience in all facets of timber management, manufacturing and marketing. MWG is one of the few TIMOs that is vertically-integrated with all core business and forestry functions handled or supervised by in-house experts
MWG and its sister operating companies employ 63 people in their twelve offices located in Alabama, Kentucky, Louisiana, Michigan, Mississippi, New York and Oklahoma. MWG acquires, manages and sells timberland as an investment vehicle for pension funds, college endowments, foundations, insurance companies and high net-worth individual investors. The company focuses on ensuring long-term optimum cash returns on investments while practicing responsible forest stewardship. In conjunction with the third-party marketing firm, Molpus Woodlands Advisors, with offices located in Massachusetts, Mississippi, Oregon and Tennessee, MWG is able to continue the tradition of servicing the needs of its clients.
###