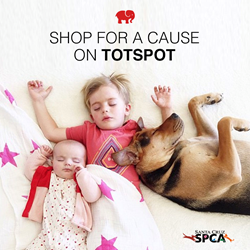 I'm using the Totspot app to recycle my kids' fashion and pass it along to other fashionistas.
Santa Cruz, CA (PRWEB) March 13, 2015
Jessica Shyba, nationally recognized fashion blogger (http://www.mommasgonecity.com) photographer and mother of four of the Internet's favorite children and dog, and Totspot (http://www.totspot.me) the resale shopping app for kids' fashion, announced today the sale of her famed children's fashion in Totspot's resale marketplace to raise funds and awareness of Santa Cruz SPCA.
As a partner with Totspot, Shyba has donated over 20 items of her trendy kids' clothing, which has gained a cult status amongst her over half-a-million Instagram followers and celebrity fans. The sought-after styles will be available for sale on the Totspot mobile marketplace with 100% of all proceeds donated to Santa Cruz.
"As a mom of four who is passionate about green living, I know first-hand how fast our kids grow out of their clothes," said Jessica Shyba. "I'm using the Totspot app to recycle my kids' fashion and pass it along to other little fashionistas."
"Jessica's unique talent and cutting edge style for kids, combined with her passion for family and animals resonates with the Totspot audience and we couldn't be more thrilled to have her Momma's Gone City shop on Totspot," noted Samantha Fein, VP of Marketing for Totspot. "We are excited for this extraordinary opportunity to bring awareness to Totspot's resale platform and to the needs of the SPCA, a completely non-profit organization."
The Momma's Gone City store on Totspot will be available on March 13, 2015 touting over 20 items for sale from the famed family's wardrobe. Ms. Shyba and Totspot will donate 100% of sale proceeds to Santa Cruz SPCA, which will help fuel their efforts of animal rescue and education. To participate, consumers may download the free Totspot app for iPhone and Android at http://j.mp/TotspotApp and search for the closet: mommasgonecity.
About Momma's Gone City
Jessica Shyba is the best selling author of Momma's Gone City and the photographer of the popular Internet sensation Theo & Beau. The famed mother of four is an award-winning photographer, author and blogger focused on lifestyle and family.
About Totspot
Totspot is America's fastest growing kids' shop online powered by its parent-to-parent marketplace. The resale shopping platform publishes thousands of new items daily from top brands including Burberry, Juicy Kids, Janie & Jack, Nike, UGG, GAP Kids and more. The app is available on iPhone and Android. For more information visit: http://www.totspot.me/jessicashyba
For more information, please contact:
Samantha Fein
VP Marketing, Totspot
Email: Samantha(at)totspot(dot)me
Phone: 408-833-4203
Mandi Hart
Shelter Manager, Santa Cruz SPCA
Email: Mandi(at)spcasc(dot)org
Phone: 831-465-5000
# # #