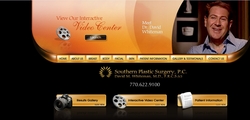 Duluth, GA (Vocus) November 1, 2010
Double board-certified plastic and reconstructive surgeon Dr. David Whiteman discussed "tune-up" plans with reality star Nene Leakes on Monday night's episode of The Real Housewives of Atlanta. Dr. Whiteman, known for his successful results with Atlanta mommy makeover surgery, performed the stars breast, body, and facial cosmetic surgeries in April.
While the 42 year old mom of two did not approach her Atlanta breast augmentation, breast lift, rhinoplasty, and liposuction procedures to remedy the effects of having children, all of those procedures along with Atlanta tummy tuck (abdominoplasty) are common components of mommy makeover surgery. Dr. Whiteman performs these procedures once women are finished having children, to restore mothers with their pre-baby bodies.
Dr. Whiteman uses liposuction to eliminate isolated areas of excess fat, tummy tuck to reduce the amount of skin stretched by a baby's growth, and breast lift surgery to undo the effects of breast feeding and pregnancy weight gain.
A staple in Atlanta breast surgery, Dr. Whiteman shares about his experience with the star, "Nene's cosmetic concerns were very similar to what I often hear from my patients, especially those who are mothers. They are women who are healthy, confident and feel great, but are looking for a little cosmetic refinement to make their outside appearance match the way they feel inside."
Dr. Whiteman's nearly two decades of surgical experience have produced thousands of amazing before and after shots, but Ms. Leakes' results can be viewed every Monday at 9pm on the Bravo network for their weekly installment of The Real Housewives of Atlanta.
About Southern Plastic Surgery – Dr. David Whiteman
Southern Plastic Surgery was founded in 1993 by David M. Whiteman, M.D., F.R.C.S. Dr. Whiteman serves as the Chief of Plastic Surgery for Gwinnett Medical Center and is certified by the American Board of Plastic Surgery and the Royal College of Physicians and Surgeons of Canada. With a special interest in assisting women suffering from breast cancer, Dr. Whiteman created a "buddy system" for his breast reconstruction patients to discuss their journeys to recovery and also serves on the board of directors for The Sport of Giving, a women's cancer care and prevention non-profit organization.
Patients considering a tummy tuck, procedures of the breasts, or other aesthetic and body contouring options can find more information about Southern Plastic Surgery and Dr. Whiteman at http://www.southernplasticsurgery.com.
###