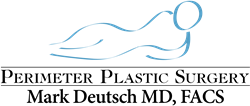 After a busy summer, fall is a great time to do something for yourself—before the busy holiday season starts and before the cold weather sets in
Atlanta, Georgia (PRWEB) October 12, 2016
With the kids back in school and the holidays just around the corner, Atlanta-based Perimeter Plastic Surgery is sponsoring three timely specials: a "Fall Fab Abs" special ($500 off on a tummy tuck), a "Mommy Makeover Special" (which consists of a tummy tuck along with a breast lift, augmentation or other cosmetic procedure for 15 percent off the second procedure) and 10 percent off any skincare purchase for referring a friend.
"After a busy summer, fall is a great time to do something for yourself—before the busy holiday season starts and before the cold weather sets in," says Mark Deutsch, MD, a board-certified plastic surgeon and medical director of Perimeter Plastic Surgery.
A "tummy tuck" (or abdominoplasty), is a surgical procedure that tightens loose stomach muscles and gets rid of excess fat and skin. Dr. Deutsch recommends tummy tucks to women who are at a healthy weight, in good overall health and finished having children, but have been unable to firm up their figures through exercise.
A "mommy makeover" is typically a tummy tuck, along with a second cosmetic procedure such as a breast lift, augmentation or reduction. Dr. Deutsch recommends this procedure to women who are unhappy with the size and/or shape of their breasts after pregnancy and breastfeeding, who may also have sagging in the tummy and pockets of fat on the waist, abdomen and thighs. The goal of this surgery is to help restore a woman's pre-pregnancy figure.
Individuals who are interested in the skincare special can choose from a variety of products made by Obagi Medical, Clarisonic and bioCorneum. "During a consultation, we can evaluate your skin and recommend products that are ideal for you," Dr. Deutsch says.
Anyone interested in Perimeter Plastic Surgery's fall specials should schedule a complimentary consultation for sometime before October 31. Appointments can be booked by calling Perimeter Plastic Surgery at 404-255-0886, or by filling out the online contact form at https://www.perimeterplasticsurgery.com/contact/.
About Perimeter Plastic Surgery:
Dr. Mark Deutsch is the founder of Perimeter Plastic Surgery and a top plastic surgeon in Atlanta. He is board certified by the American Board of Plastic Surgery, and performs a variety of cosmetic and reconstructive surgeries. In addition to his work in the United States, he travels annually to South America to perform volunteer procedures. For more information about Dr. Deutsch and Perimeter Plastic Surgery, please visit https://www.perimeterplasticsurgery.com.