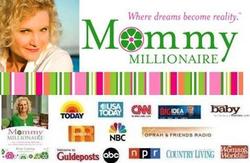 We're starting an economic revolution
New York, NY (PRWEB) December 10, 2008
"We're at a critical time in the history of our country," says Kim Lavine, bestselling author of the book MOMMY MILLIONAIRE and America's expert on inspirational business advice. "The economic future of this country is in the hands of women, particularly moms, who control $8.5 trillion in consumer spending each year, or three-quarters of the American economy. Add in the fact that women are starting businesses at twice the rate of men and you can understand why women are emerging as the most powerful economic force in history."
Lavine has shared her business advice and inspiration with millions on the Today Show, Rachel Ray, NBC & ABC news, CNN, CNBC, NPR, Oprah & Friends Radio Network, LifetimeTV.com, and features in USA Today, Country Living, Guideposts, Women's World, and American Baby to name a few. http://www.tinyurl.com/mommymillionairemediahighlight. Now she's taking her unique brand of advice to her own online magazine at http://www.mommymillionaire.com. The writers of the new Mommy Millionaire Magazine are part of the world-wide Mommy Millionaire Community, who are busy turning their dreams of financial independence into reality, while simultaneously re-defining success on their own terms.
"We're starting an economic revolution," says Lavine. "Don't believe me? Watch the video: http://www.mommymillionaire.com/the-mommy-manifesto/ . Our revolution isn't a political revolution - it's an economic revolution. It's not an individual's revolution, it's a family revolution. In the New Economy that we're creating, Small is the New Big, and Mom is the New Green™." In fact, Lavine is encouraging everyone to Buy Mom™ this holiday season through her Holiday Buying Guide at http://www.mommymillionaire.com, showcasing innovative products and businesses from around the world.
With record corporate layoffs, an increasingly global economy, and the end to job security as we know it, the American economic landscape is transforming at record speed. At the same time monumental changes in technology and communication are leveling the playing field between small entrepreneurs and big businesses in massive and ground-breaking ways, creating historic opportunities for personal wealth. The new Mommy Millionaire Magazine provides the roadmap to success in the New Economy, giving everyone including laid-off workers, start-up businesses and seasoned entrepreneurs the tools they need to compete and succeed.
"Take it from somebody on the front lines: everything in the world of business is up for grabs. The book is being rewritten daily on what the new wealth opportunities of tomorrow are. The economic future of our country doesn't belong to big companies anymore. The future belongs to the individual, and the future is now!"
The proof is that despite a recession, America is in the midst of the largest entrepreneurial surge this country has ever seen. In the last two years a record number of Americans started companies, more than at the height of the dot-com hysteria. There are currently 30 million entrepreneurs in America and 11 million of them are women, who are starting businesses at two times the rate of men. New data from the SBA showing 26% growth in firms with no employees testifies to the prediction by expert trend forecasters of an age in which micro-companies produce new ingenious products and devise new strategies to take them direct to consumers via the internet.
Still, entrepreneurship remains a risky endeavor. The SBA estimates that 40% of all business fail in 1 year. Of those who survive, 80% fail in 5 years, and of those who survive 5 years, another 80% fail. "Everyone obviously needs all the help they can get!" says Lavine.
Lavine started Mommy Millionaire Media, a multi-media company focused on developing traditional and new media opportunities in publishing, TV, radio, social networking, and digital formats, in January of '08, and in addition to the online magazine has a new book deal in the works, a TV production deal, and a world-wide social network community at http://www.mommymillionaire.com.
"Women are the architects of this New Economy, not just in this country, but around the world," says Lavine. "It's a time of historic opportunity and I'm here to show people how to take advantage of it."
For More Information, Contact:
Kim Lavine
President and CEO
Mommy Millionaire Media and Green Daisy
616-402-8926
Mommy Millionaire Media Advertising Sales
Debbie Wentworth
Events & Media Management
3823 Crystal Waters Lane N.E.
Grand Rapids, MI 49525
(616) 293-9552 cell (616) 363-3520 fax
Speaking & Author Events
Harriet Seltzer
Author Events; St. Martin's Press
175 5th Avenue; 15th Floor
New York, NY
646-307-5567
Kim is the President and CEO of Mommy Millionaire Media and Green Daisy, Inc-a lifestyle brand focused on balancing life with love (tm)--and the best selling author of Mommy Millionaire. Kim has appeared on The Today Show, Rachel Ray, NBC & ABC news, CNN, CNBC, NPR, Oprah & Friends Radio Network, LifetimeTV.com, and has been featured in USA Today, Country Living, Guideposts, Women's World, and American Baby, to name a few. Kim is on a mission to empower people to follow their dreams, inspiring them with hope, honesty and faith.
Kim's book has been called by Publisher's Weekly in a Starred Review: "A top-notch, how-to guide on launching a business. Lavine's human and authoritative story make this one of the most engaging and useful resources available for readers hoping to convert their passion into a healthy company...a rare gem." USA Today says ""Mommy Millionaire is loaded with resources for a fledgling business person...armed with a good idea and boundless energy." Barbara De Angelis, PH.D.-#1 New York Times Bestselling Author says, "Mommy Millionaire is an inspiring gift and road map to success for anyone who's ever had a dream."
Strategy and Business Magazine chose Mommy Millionaire as one of the best business books of 2007: "Kim Lavine's memoir-cum- business-primer breaks new ground in the crowded field of startup sagas. By seamlessly blending the epiphanies that she gained through launching a business with practical lessons, Lavine has packaged a core set of new-venture tenets into something fresh and relevant....Lavine's book is worth reading."
"Everything begins with a search for something better--a dream, an idea, the courage to face a challenge, and the passion to get it done.
You can do it.
Believe in yourself.
Change the rules.
Join the revolution."
From MOMMY MILLIONAIRE, by Kim Lavine
###