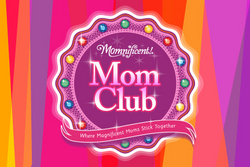 Lori Radun isn't just starting a club, she's launching a movement, and busy moms will want to join in.
(PRWEB) December 13, 2009
As our society trends towards becoming more evolved personally, professionally and spiritually, messages about pursuing these goals are popping up everywhere. What we haven't seen are ongoing, user-friendly, affordable and livable means to accomplish them. Until now.
Lori Radun, author, life coach, keynote speaker and mom, has launched the Momnificent! Mom Club, a dynamic, multi-media program for busy moms to receive guided learning of important life skills. The Club is a progressive community that focuses on the continuous integration of healthy habits into daily life. Economical in its use of time, the Club is perfect for new moms, single moms, working moms and veteran moms alike.
Membership to the Club's introductory level is free and includes live monthly teleclasses on topics ranging from time management and finances, to relationships and self-esteem. This "Topaz" level is perfect for newcomers to experience Radun's wisdom and enthusiasm first-hand. Her followers will likely choose either the "Ruby" or "Emerald" level, where nominal monthly dues give them access to Group Coaching Calls, and online journaling and community networking platforms.
By far the most popular benefit of this Moms Club membership is the Monthly Action Plan. Members choose a track to pursue, either Momnificent! Life, Momnificent! Family or Momnificent! Biz, and receive an audio lesson and all the tools necessary to complete relevant exercises throughout the month. The Monthly Action Plan adds opportunity and accountability to incorporate the lessons learned into everyday life, and transforms "knowing" into "being."
The combination of guided self-help, community support and personalized life coaching make the Mom Club unique. Convenience and affordability make it accessible to so many moms who might not otherwise pursue positive change in their lives.
Lori Radun isn't just starting a club, she's launching a movement, and busy moms will want to join in. Moms can find out more about Lori Radun and the Mom Club at the Momnificent! website, http://www.momnificent.com.
# # #