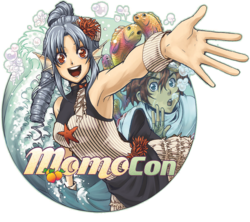 These companies have millions of fans, and to have them be present at MomoCon is a great honor.
-Chris Stuckey Internal Co-Chair
Atlanta, Georgia (PRWEB) February 12, 2013
MomoCon has been Atlanta's family friendly convention for fans of anime, animation, and gaming for the past 9 years. And with less than 30 days before MomoCon 2013, March 8th – 10th at the Hilton Atlanta, there have been several exciting developments for fans of video games. Major game studios Bioware, Riot Games, and Hi-Rez have confirmed to have an official presence for this year's MomoCon. "We are incredibly excited to welcome these companies to MomoCon 2013!" said Christopher Stuckey MomoCon Internal Co-Chair "These companies have millions of fans, and to have them be present at MomoCon is a great honor."
Bioware has created some of the world's most popular video games including the Mass Effect trilogy of games, and more recently the MMORPG Star Wars the Old Republic. Part of the draw of MomoCon for Bioware is the presence of two of the major voice actors behind the Mass Effect series as featured guests at this year's event: Jennifer Hale and Mark Meer who voice the main playable character in Mass Effect, Commander Shepard. Bioware's Community Manager, and a Senior Level Designer who worked on Mass Effect will sit down with Jennifer and Mark on a 'Stars of Mass Effect' panel Saturday March 9th at 7PM in the Main Events room at MomoCon. Bioware will also sit down with fans of all of their games Sunday March 10th at 1PM in an open discussion 'Bioware Industry' panel.
Riot Games has created the recently crowned 'most played video game in the world', League of Legends. To say it is League of Legends is popular would be an understatement, as League of Legends, or LoL as it is known with fans, helped established the Multiplayer Online Battle Arena genre as the most played eSport to date. Riot Games is sending out a huge part of the art team and several members of their events team for what is going to be one incredible panel about League of Legends Saturday March 9th at 1PM in the MomoCon Main Events room. Riot Games will also be taking pictures of some of the most dedicated LoL fans who will be at MomoCon, especially of those in cosplay (costume) as the 'champions' from the game. A lucky few cosplayers from MomoCon 2013 might even be put up on the game's official website.
Bioware and Riot Games will be on site the whole weekend, but their presence at MomoCon will culminate in a joint panel with Hi-Rez Studios of Atlanta on Sunday at 2:30PM on "Breaking into the Game Industry" which will delight and educate both fans of video games, and those who wish to help make the next generation of gaming.
Even before some of the most popular video game companies confirmed to be at MomoCon 2013, there was already an increased emphasis on all forms of gaming. "We have greatly expanded our gaming floor space, which will provide more opportunities to the MomoCon attendees far beyond a typical anime convention," said MomoCon Media Relations Senior Director Dan Carroll, "but, more importantly we are expanding the types of gaming." New to MomoCon 2013 will be roleplay gaming, and PC gaming; both of which have huge fan bases that were previously not able to be highlighted at each year's MomoCon. Roleplay gaming, and PC gaming will join card gaming, board gaming, and video gaming at this year's event. A full list of scheduled panels and events, including all gaming events, is available online now at http://www.momocon.com/events/schedule/
What: MomoCon Anime and Gaming Convention
When: March 8-10, 2013
Cost: Early Bird Online: $30; 3-Day at the door $40; Children Under 6 free
Where: Atlanta Hilton - 255 Courtland Street NE Atlanta, GA 30303
Main URL: MomoCon.com
MomoCon 2013 features celebrity guests from anime, animation, video games and costuming. Including animation writer, producer, and legend Mike Reiss (Simpsons, The Critic), anime voice actors Brina Palencia (Black Butler, Spice and Wolf, and Borderlands) and Steven Blum (X-men, Cowboy Be-Bop, Toonami,etc), and costuming legend Yaya Han (King of the Geek). Amber Nash and Lucky Yates of FX's Archer will also be returning.
MomoCon is one of the most visually interesting and engaging events in the entire country. Any press and media are encouraged to apply for a press pass to cover the event. Any interested groups apply before February 13: http://www.momocon.com/media/
Bioware, Mass Effect, and Knights of the Old Republic are TM & © 2013 EA International(Studio and Publishing) Ltd. All Rights Reserved. League of Legends and Riot Games Inc. are trademarks or registered trademarks of Riot Games, Inc. © 2012 Riot Games. All rights reserved.