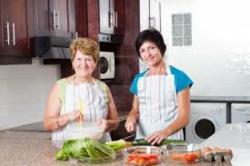 Des Moines, IA (PRWEB) May 09, 2013
Ever noticed how everyday tasks become just a little more challenging the older we get? From getting in and out of a car, to opening a jar or cooking, those little aches and pains discretely remind us of the passage of time.
But during the golden years, when good health becomes even more of a priority, it's important not to let aching fingers and stiff joints pull us away from good health and towards a less nutritious diet.
Elizabeth Elliott, Registered Dietitian at Mom's Meals, offers ideas on how to make a kitchen more "age-friendly."
1. Stock the fridge, pantry, and freezer with age-friendly, arthritis-friendly, convenient foods. Consider buying pre-cut fruits and vegetables to minimize shopping and chopping.
2. Buy utensils for cooking that have padded handles and grips to make cooking easier. Arthritic fingers may not grip as tightly as they once did, so choose cooking items that make it easy with larger handles and better grips.
3. Consider having meals delivered. Companies like Mom's Meals are a great option, for just a few meals a week or a full supply. Staying fresh in the fridge for up to 18 days, and with 70 meal choices, nutritious meals of your choosing can be delivered right to your door, eliminating the need for shopping and preparing. "The best part of our meals is that we have choices for those on a diabetic or renal diet, as well as for those who need heart-healthy or vegetarian options," said Elliott.
4. Using a barstool can make it possible to sit down when chopping, mixing, and stirring. This helps with achy joints, painful knees, ankles, and feet. Being able to keep body weight off joints while preparing food allows for more time, and healthier eating.
5. Buy a pizza cutter, but not necessarily for just cutting pizza! Arthritic hands may find a pizza cutter useful for cutting everything from sandwiches to chicken breasts to casseroles.
6. Keep pliers in the kitchen. Long-handled pliers may be used to loosen tightly sealed bottles.
7. Drip dry. Use a dishwasher with a drying cycle, or just a drying rack. Trying to hand dry with a towel can be difficult.
8. Cook in bulk. If you do cook, cooking in bulk means cooking once and eating several times. It's a lifesaver when hands, hips, feet, and knees ache from the strain of preparing food, bending down to the oven, or stirring, mixing, and chopping.
9. Start doing crock pot meals. One pot, low mess, and easy to prepare meals cut down on the work.
10. Choose twist top. Try buying containers with twist-off tops rather than pop tops, and don't be embarrassed to ask for help when needed.
Mom's Meals is dedicated to providing fresh-made, nutritious, home meal delivery to customers nationwide, specializing in senior and patient care for over a dozen years. The company prepares, packages, and ships ready-to-heat and eat meals directly to a customer's door, delivered anywhere in the United States, including meals for those with heart-healthy, gluten-free, veggie, low carb, Renal, and Diabetic diets.