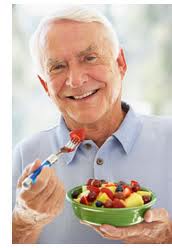 A vegetarian diet offers many health benefits, but unless it is well planned, there may be health risks as well. Having vegetarian meals delivered can help reduce the hassle of figuring it all out.
Des Moines, IA (PRWEB) April 16, 2013
It isn't unusual today to hear more and more about people seriously considering a vegetarian diet, or even a plant-based diet with less consumption of meat as the main protein.
A vegetarian diet can prove to be a healthy lifestyle, with vegetarians having lower rates of heart disease (the number one killer in the US), and lower rates of some forms of cancer. However, making the decision to become a vegetarian requires serious consideration and the Registered Dietitians at Mom's Meals, company that delivers nutritious meals, including vegetarian meals right to your door, offer ideas on what to know before making a decision.
1. Understand why you want to be a vegetarian.
This may seem obvious, but there are a number of reasons people choose to be vegetarian. Economically, it is often a less expensive way to eat. Personal reasons, such as compassion for animals, or belief in non-violence, may also be a motivating factor. Understanding your reasons will help you better commit to the lifestyle, and determine if you are going to be vegetarian, defined as not eating meat, poultry, or fish; vegan, using no animal products or byproducts; or fall somewhere in between.
2. Know the health benefits.
The benefits of being a vegetarian are many, including lower risk for heart disease, obesity, ovarian cancer, high blood pressure, breast cancer, and diabetes. But just changing to a vegetarian diet does not ensure a healthy body. Most vegetarian diets are considered healthy because they consist of a significant amount of fruits, vegetables, legumes, grains, seeds, and nuts, which are typically low in fat and high in fiber. Should the vegetarian diet include fatty snacks, fried foods, and too much dairy, it would not offer the same health benefits.
3. Know the risks.
According to Elizabeth Elliott, Registered Dietitian for Mom's Meals, "A vegetarian diet offers many health benefits, but unless it is well planned, there may be health risks as well. Those considering a vegetarian diet need to make sure they get sufficient vitamin B-12, vitamin D, calcium, and zinc, as well as make sure they get sufficient calories."
4. Be sure to maximize and balance the vegetarian diet.
To get the vitamins and minerals needed for a healthy diet, get the right amount of calories and stick to these five guidelines:

Protein: Eat a wide variety of foods, get enough calories, and choose good sources of protein including whole grains, lentils, beans, low-fat dairy products, nuts, seeds, peas, eggs, and tempeh.
Calcium: Get at least 1000 mg of calcium each day. Meet calcium needs with low-fat and fat free dairy, or in dark, leafy greens, broccoli, beans, dried figs, sunflower seeds, and calcium fortified foods.
Vitamin D: Vitamin D helps the body absorb and use calcium. Try vitamin D fortified foods, get plenty of sunlight, and consider a daily multi-vitamin.
Iron: Iron fortified foods are crucial and include leafy greens, dark green vegetables, pumpkin seeds, sesame seeds, and soybean nuts. To help better absorb the iron, it can be taken with vitamin C, such as citrus fruit or juice.
Vitamin B 12: Consume eggs and soy milk that is B-12 fortified, and consider taking a broad-spectrum multi-vitamin.
5. Know where to get help.
When making the switch to a vegetarian diet, it is important to understand that despite the health benefits, without good tasting food, it could be difficult to sustain. If a senior loved one is considering a vegetarian diet, having Mom's Meals delivered is a good way to ensure they get the nutrients and calories they need.
Mom's Meals is dedicated to providing fresh-made, nutritious, home meal delivery to customers nationwide, specializing in senior and patient care for over a dozen years. The company prepares, packages, and ships ready-to-heat and eat meals directly to a customer's door, delivered anywhere in the United States, including meals for those with heart-healthy, gluten-free, vegetarian, low carb, renal, and diabetic diets.