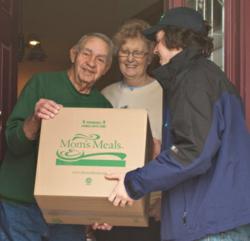 I was embarrassed to tell my children that I didn't feel comfortable going to the market, carrying the bags home, and cooking. I just didn't have the strength anymore.
Des Moines, IA (PRWEB) January 23, 2013
It's hard to imagine today that more than six million aging Americans suffer from malnutrition. The number is astounding, especially in 2013. And these are not just the poor. Today in America, seniors are starving, and many of them have simply chosen not to tell their adult children.
"I was embarrassed to tell my children that I didn't feel strong enough to go to the market, carry the bags home and then prepare a meal. I just didn't have the strength anymore," said Sophie N., 82, of Cedar Rapids, IA. "Having always been the cook for the family, it was easier to just eat whatever was in the pantry, if there was anything there at all, even though I knew it was a far cry from a healthy diet."
For caregivers, whether close by or miles away, the benefits of providing home meal delivery to a loved one can't be measured.
"It took me a few months to realize my recently widowed mom just couldn't do everything anymore," said Susan C., Chicago, IL. "When the child has to take on a parental role, it's really tough. Knowing she was getting nutritious meals delivered made a huge difference for me."
For seniors and those choosing to age in place, many of whom live alone, new meal delivery services can bring not only health, but also comfort, company and peace of mind.
"When we started the company, it was originally to help our own aging moms," said Rick Anderson, president of [Mom's Meals, a company that prepares and delivers meals to seniors and others unable to care for themselves. "From there, we saw the need and it has just continued to grow in demand."
With services like Mom's Meals, seniors or their caregivers choose from a wide variety of options, many of which are customized to specific diet restrictions, including diabetic diets, gluten-free and vegetarian, and even those on specific renal diets. Meals can be ready to eat in just three minutes in the microwave, making them very convenient.
"Seniors should not have to worry about how they are going to accommodate their dietary restrictions, prepare healthy meals, or how they are going to get food in spite of their mobility limitations," said Anderson. "A home delivered meal service delivers so much more than just food; it delivers greater independence, security, and most importantly, good health."
Mom's Meals, is dedicated to providing fresh-made, nutritious, home meal delivery to customers nationwide, specializing in senior and patient care for over a dozen years. The company prepares, packages, and ships ready-to-heat and eat meals directly to a customer's door, delivered anywhere in the United States.