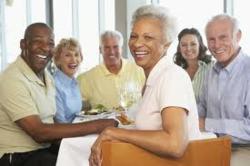 Diet plays a huge role in fitness for seniors and everyone else. For those with limited mobility, planning meals ahead of time, and evening ordering them delivered to your door, can be a lifesaver
Des Moines, IA (PRWEB) June 20, 2013
Do you cringe when someone asks about exercise? Keeping fit and healthy is often more than that often dreaded word. Nutrition, keeping an active mind, and moving as much as you can are all part of the equation.
For those who want to stay fit longer, and who may not be exercise aficionados, Mom's Meals offers these suggestions.
1. Stay active. Seniors who stay active have a lower likelihood of needing long-term care, are happier, and healthier. Try something different; ride a bike, work in a garden, clean out a closet, go for a walk with a neighbor.
2. Plan your meals. Meal planning helps limit mindless eating and snacking. With a healthier diet, there is a decreased risk of heart disease, high blood pressure, and some cancers. "Diet plays a huge role in fitness for seniors and everyone else. For those with limited mobility, planning ahead can be a lifesaver," said Rick Anderson, president of Mom's Meals.
3. Eat the right foods. Everyone makes excuses for not eating well, from lack of time to lack of nutritious food available to stress. In a recent article in the "Journal of Neuroscience," a study showed the addictive nature of sugar and that once it is ingested, it's hard to stop. For those with issues choosing, preparing, or gaining access to the right foods, consider home delivered meals, which can provide both the right nutritional make-up and portion control.
4. Focus on weight. According to the Centers for Disease Control and Prevention, over one third of U.S. adults, and about 17% of children and adolescents, are obese.
5. Get rest. Many seniors have trouble sleeping. Bladder control, anxiety, and many other factors often play a role. However, good rest is essential to being fit and healthy. Take naps, turn off distractions, and try to get sufficient rest each night.
6. Strive for mental and emotional satisfaction. Socialization is a big part of health. In fact, the Harvard School of Public Health researchers have found evidence that seniors with active social lives may have a slower rate of memory decline.
Mom's Meals is dedicated to providing fresh-made, nutritious, home meal delivery to customers nationwide, specializing in senior and patient care for over a dozen years. The company prepares, packages, and ships ready-to-heat and eat meals directly to a customer's door, delivered anywhere in the United States, including meals for those with heart-healthy, gluten-free, veggie, low carb, Renal, and Diabetic diets.