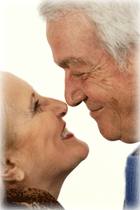 Cardiovascular disease is the leading cause of death in the United States. A third of the deaths each day are related to heart disease and stroke. Little changes we can all make could help bring that number down.
Des Moines, IA (PRWEB) February 19, 2013
For those who have gotten that phone call in the middle of the night with news that a love one has died from an unexpected heart attack, you know it's a moment you'll never forget. Over two thousand Americans die each day from heart disease, making it one of the nation's top killers.
During February's American Heart Month, Mom's Meals, a company that delivers nutritionally-balanced meals to the doors of those unable to cook or shop for themselves, offers five tips to keep that ticker ticking!
1. Make healthy replacements: What you eat plays a significant role in your heart health; a few simple replacements can really make a difference. Replace white bread, pasta and crackers with counterparts made with whole grains. You've heard this before, but now may be the time to go for it. Tired of shopping and cooking? Consider heart-healthy meal choices delivered to your door.
2. Cut back on the sweets: Limit added sugar. It is okay to indulge now and then, but make it the exception rather than the rule. Read packaging, you may be getting more added sugars than you realize. Condiments are a large source of added sugar that is not often considered. (Have you ever read a ketchup bottle?)
3. Increase fruit and vegetable intake: Eat more fruits and vegetables each day. Use fresh, frozen, or those canned without added salt or sugar. Throw a handful of berries in your morning cereal, or blend vegetables into your spaghetti sauce. There are lots of ways to increase your fruit and vegetable intake without much hassle – and without anyone tasting it, if that's the objection.
4. Lower your sodium intake: Too high of sodium intake can negatively affect the heart. How can you lower sodium? Elizabeth Elliot, Registered Dietitian suggests, "Start by taking the salt shaker off the table, and look at Nutrition Facts Panel to find products that have 20% or less of your daily needs for sodium."
5. Choose lower fat meat: When grocery shopping, choose low fat meat items such as chicken breast and fish. Limit higher fat meat such as beef and pork. Or choose vegetable protein options such as beans and nuts. While your body needs proteins, it is important to not burden your heart with the added fats that sometimes accompany these proteins.
Mom's Meals is dedicated to providing fresh-made, nutritious, home meal delivery to customers nationwide, specializing in senior and patient care for over a dozen years. The company prepares, packages, and ships ready-to-heat and eat meals directly to a customer's door, delivered anywhere in the United States.