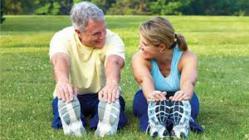 Seniors often need fewer calories to meet their energy requirements, so they need to really make those calories count with nutrient dense foods, such as fresh fruits and vegetables.
Des Moines, IA (PRWEB) June 25, 2013
As men age, staying physically healthy is vital to their emotional well-being. And as much as it may hurt to hear it, good health starts with all the basics: good nutrition, regular physical exercise, and eliminating smoking, cutting back on fatty foods, and limiting alcohol consumption. It also requires good health care, and a commitment to taking care of one's self, emotionally and physically.
Mom's Meals offers tips, designed specifically for the men as we age.
1. Get the right nutrition. More than two million senior Americans are malnourished. Even if seniors are getting enough calories each day, they may not be getting what they need to maintain health.
Good health is not just about what you don't eat, but also about what you do eat.
For those over age 60, nutritional needs change. For example, a nutrient-rich diet is needed for eyesight, coordination, and proper organ function. Because bones often lose porosity with age, increasing calcium can help maintain bone strength.
"While the general rules of health and diet apply to seniors, it is important for seniors to recognize that they may have additional needs," said Chef Randal Shircel, Director of Culinary and R&D Innovation at Mom's Meals. "For example, seniors often need fewer calories to meet their energy requirements, so they need to really make those calories count with nutrient dense foods, such as fresh fruits and vegetables."
For those unsure of nutritional requirements, home delivered meals may be an option. Mom's Meals, as one example, are made fresh, and designed specifically for seniors, delivered right to the door.
2. Stay physically fit. As men age, they naturally lose muscle. Regular exercise can help slow this loss, and keep men looking and feeling their best. Those over age 65 should strive to participate in a minimum of 30-minutes of exercise daily, whether it be a brisk walk, work in a garden, or walking the golf course.
3. Be at the right weight. Maintain or lose weight as needed for your frame. One of the very best things men can do for their health, particularly as they age, is get to a healthy weight and stay within two pounds.
4. Eat for your heart. Heart disease is the number one killer in America. Diet is crucial to heart health, so be sure to reduce foods that are high in saturated fat and cholesterol and focus on foods that raise good cholesterol levels, such as omega 3's. Mom's Meals' heart healthy meals come with reduced fat and sodium and designed for seniors and their specific nutritional needs. The benefits of a healthy diet include improved mental acuteness, higher energy levels, stronger immune system, faster recuperation times, and a higher resistance to illness and disease.
5. Don't ignore emotional needs. Depression and other mental and emotional problems typically plague the elderly. Having a body that is not as capable as it once was can be emotionally challenging. Finding ways to address these needs is essential for good health. When not sure where to turn, check with your Area Agency on Aging.
Mom's Meals is dedicated to providing fresh-made, nutritious, home meal delivery to customers nationwide, specializing in senior and patient care for over a dozen years. The company prepares, packages, and ships ready-to-heat and eat meals directly to a customer's door, delivered anywhere in the United States, including meals for those with heart-healthy, gluten-free, veggie, low carb, Renal, and Diabetic diets.