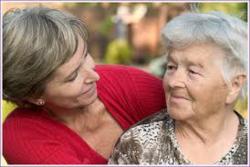 When you can't be there in person, send the next best thing; healthy, freshly prepared, and easy to heat meals, that will help protect the health of your aging loved one when you can't be there in person.
Des Moines, IA (PRWEB) February 11, 2013
For home-bound seniors, 33-million have one chronic condition and 25 million have two or more chronic conditions, which can make some of the most basic of functions, including meal preparation difficult, to say the least.
Many seniors have difficulty getting out and about to get the foods they need in order to prepare healthy meals, let alone actually prepare them. In fact, 92% of seniors ages 75+ live at home with 32% of them being " home-bound," and unable to get to a market without assistance.
Although aging in place is great for dignity and independence, it can be hard on health. And health is not the only thing it is hard on—it can be a challenge for caregivers as well. Of those caring for an aging parent, 59% are employed full or part time and have their own families to look after.
Staying on top of the eating habits of their senior loved ones is difficult at best, and unrealistic for many. In fact, 76% of all care givers live more than twenty minutes away from their elderly loved ones, and aren't there daily, no matter how they wish they could be.
If you fall into this category, and can't spend Valentine's Day with your elderly loved ones, consider sending them love in the form of Mom's Meals. Mom's Meals are fresh, healthy, and easy to prepare meals that are delivered to the door of seniors. These meals are created by chefs and dietitians to provide great taste and nutritional benefits for seniors aging in place.
Rick Anderson, President of Mom's Meals, watched his own mother try to gracefully age in place, and saw the struggles she had when trying to prepare healthy, tasty meals.
"This is what inspired the business and business name," said Anderson. "At the time, my mom needed meal support, and I found I couldn't be there to prepare or bring fresh cooked meals regularly. That's why we called our first product "Mom's Meals," he states.
Mom's Meals is dedicated to providing fresh-made, nutritious, home meal delivery to customers nationwide, specializing in senior and patient care for over a dozen years. The company prepares, packages, and ships ready-to-heat and eat meals directly to a customer's door, delivered anywhere in the United States.