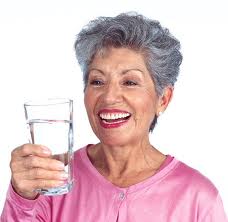 Des Moines, IA (PRWEB) February 27, 2013
Bet you don't give much thought to your kidneys, do you? So you might wonder what kidneys do to merit an entire month designated as National Kidney Month.
Homer W. Smith, physiologist, renal expert, and author of the book From Fish to Philosopher says, "Bones can break, muscles can atrophy, glands can loaf, even the brain can go to sleep without immediate danger to survival. But should the kidneys fail, neither bones, muscles, glands, nor brain could carry on."
In other words, they are indispensable, and you only get two of them, so treat them well.
Renal health is of utmost importance, and for most of us, thinking about our kidneys isn't a daily occurrence. But these special organs become even more important as we age because they filter blood, pulling out toxins, regulating sodium, potassium, calcium, acid, and fluid levels in the body.
Ask anyone who has ever had a kidney stone, and they'll tell you preventing kidney problems is far better than treating them.
Mom's Meals, which recently introduced a line of renal-friendly meals, offers four things you can do to protect the health of your kidneys during March's National Kidney Month:
1. Drink water. Staying hydrated is good for the brain, hormones, circulation, and of course, the kidneys! Staying hydrated by drinking a glass of water every hour can help your body filter and eliminate toxins, regulating the minerals in the blood.
2. Cut sodium and be careful with potassium. Too much sodium and potassium is bad for the kidneys. When your body can't eliminate salt fast enough (in other words, when you consume too much), it results in mineral deposits (or kidney stones) in your kidneys and bladder. Rather than deal with passing a kidney stone, change your habits, reduce your sodium intake, check the sodium and potassium levels of your seasonings, and opt for spices without salt.
3. Eat alkaline. For better renal health, maintain a slightly alkaline diet. The best way to do this is to eat less processed foods, and more fresh foods. Leafy greens, dark colored fruits, high-fiber breads and whole grains, are great for your health and your kidneys. Mom's Meals now offers a great renal friendly menu with fresh foods that are alkaline and low in sodium.
4. Supplement. There are nutritional health supplements that are designed to improve your kidney's well-being. Consider using supplements for the areas where you diet is failing to provide the nutrients you and those precious kidneys need.
Mom's Meals is dedicated to providing fresh-made, nutritious, home meal delivery to customers nationwide, specializing in senior and patient care for over a dozen years. The company prepares, packages, and ships ready-to-heat and eat meals directly to a customer's door, delivered anywhere in the United States.