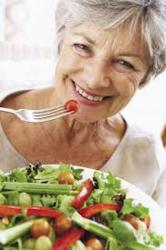 Heart health is critical to the longevity and quality of life for seniors and our new heart-healthy menu will deliver that right to your door.
Des Moines, IA (PRWEB) February 05, 2013
When the aisles of your favorite store turn red, and ads for candy and jewelry are everywhere you turn, Valentine's Day (& American Heart Month!), are right around the corner.
With heart disease ranked as one of the top killers in America (with over 2200 deaths a day), raising awareness can only go so far.
Daily exercise, a diet low in sodium, replacing white flour with wheat, increasing vegetable intake, and decreasing added sugars are among the top recommendations for improving heart health. And with a list like that, it is clear that what we eat, or don't eat, can make a distinct difference when it comes to heart health.
Mom's Meals, a company that prepares and ships nutritionally-balanced meals directly to a customer's door, was initially started to meet the nutritional needs of seniors. Now, over a dozen years later, Mom's Meals continues to provide fresh-made, nutritionally balanced and home delivered meals to help meet the specialized dietary needs of seniors or those recuperating at home after a hospitalization.
"We recognize that many seniors have dietary restrictions, and may not know how to prepare foods that meet the requirements," said Elizabeth Elliot, Registered Dietitian for Mom's Meals. "Heart health is critical to the longevity and quality of life for seniors."
The chefs and Registered Dietitians at Mom's Meals have created menus for those with diabetes, kidney disease, those on gluten free or vegetarian diets, and now, the company also offers a new heart-healthy menu.
The new heart-healthy menu is designed by a chef and Registered Dietitian to meet the low sodium and low fat guidelines recommended by the American Heart Association. Each meal has less than 600 mg of sodium, and there are several meal choices meant to ensure a delicious, nutritious entree.
Mom's Meals is dedicated to providing fresh-made, nutritious, home meal delivery to customers nationwide, specializing in senior and patient care for over a dozen years. The company prepares, packages, and ships ready-to-heat and eat meals directly to a customer's door, delivered anywhere in the United States.
# # #