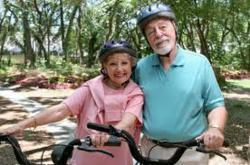 If shopping and preparing meals causes stress, consider having nutritious meals delivered right to your door.
Des Moines, IA (PRWEB) June 06, 2013
For those over age 80, who want the heart, mind and body of a 30-year old, there are still things to do, starting now, to help slow the aging process. Paying attention to diet, exercise and keeping minds active, can make a difference.
Mom's Meals offers a few suggestions to help slow the aging process.
1. Exercise. According to recent studies, regular exercise of 30 minutes a day can help decrease risk of disease by 50% and slow the aging process by 30%. This means living a longer, healthier life. Exercise also works to strengthen muscles, adding to stability, and tightens skin, giving a more youthful appearance. So if you're loving life, be sure to join a gym, take a walk, take a swim, ride a bike, do some gardening, and stay active.
2. Supplement. According to the experts at Mom's Meals, a diet full of nutrients is important, but sometimes supplementing can help fill in the gaps that a diet may be missing. Check with a doctor or Registered Dietitian to determine which supplments make sense for your specific diet.
3. Reduce stress. Sounds easy, right? But stress can age the body quickly. Having a diet rich in anti-oxidants is important, but so is finding ways to reduce the stress. If there is stress related to food shopping and preparation, consider having nutritious meals delivered.
4. Watch the sun. Oscar Wilde was right: "Everything in moderation, including moderation." But too much sun can hurt in a variety of ways, from killing healthy skin cells to reducing skin moisture, which leads to wrinkles and age spots. Sunscreen is essential, and pay attention to time spent in direct sunlight.
5. Eat right. What you fuel your body with impacts the aging process, probably more than anything else. Focus on foods that add nutrients to the body, including vegetables, fruits, grains and fish. This helps with energy levels and flushes out toxins.
6. Mind games. Keeping the brain active has shown to help increase longevity. Whether it is a crossword puzzle or Sudoku, reading a good book or taking part in a current affairs discussion, maintaining good brain health is a good idea. Sites abound on the internet with mind games for those technologically savvy.
Mom's Meals is dedicated to providing fresh-made, nutritious, home meal delivery to customers nationwide, specializing in senior and patient care for over a dozen years. The company prepares, packages, and ships ready-to-heat and eat meals directly to a customer's door, delivered anywhere in the United States, including meals for those with heart-healthy, gluten-free, veggie, low carb, Renal, and Diabetic diets.