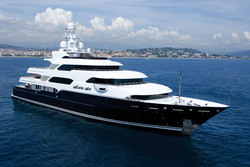 Monaco, France (PRWEB) September 25, 2008
International Yacht Collection (IYC) announces the inclusion of its premier megayacht listing, the "Martha Ann" from September 24th-27th, 2008 at the Monaco Yacht Show (MYS) and now online through LuxuryIndex.com.
The "Martha Ann" (aka project "Shark") is a 230' Lurssen masterpiece boasting lavish amenities among its near 42-foot beam, 6 decks (including a grand foyer with a centerpiece circular elevator), 7 wet bars, 24' Nautica tender, and 12 passenger limo tender. A huge sports bar/gym, oversize Jacuzzi as well as a pool adorn the upper deck providing regal sweeping views of the surroundings. The "Martha Ann" enchants even further with its robust interior complete with Victorian elegance in its 5 staterooms and abundant common areas complete with marbled bathrooms, walk-in closets, centralized touch-screen entertainment systems, and numerous sitting areas highlight its 13,000 air-conditioned interior square feet. Even a baby grand piano and a formal dining area exude luxurious delights creating a decadent environment for its guests.
The Monaco Yacht Show is world-renowned in its devotion to superyachts greater than 25 meters in length, and the "Martha Ann" indeed will be among the very largest and most impressive. IYC with seven international locations (including one in Monaco) will be among the premier yacht brokers on hand this year. As always, the 2008 megayacht extravaganza is not to be missed. But if missed, IYC has made it possible to at least experience the "Martha Ann" through Luxury Index.com, an online marketplace showcasing the world's most exclusive consumer and commercial luxury listings.
IYC has teamed up with Luxury Index.com to list and market the "Martha Ann" as an indulgent megayacht charter. Through LuxuryIndex.com, IYC has invited millions of affluent individuals to browse online and enjoy the elegance of the "Martha Ann" from the comfort of their private homes or offices. LuxuryIndex.com offers more than 42,000 luxury offerings online for purchase, rent or private charter including not only megayachts, but exotic cars, private jets, luxury properties and personal services.
IYC is privately owned by Trinity Yachts, L.L.C. who is the largest U.S. yacht builder and who ranks 3rd largest in the world. Trinity Yachts purchased IYC in 2007 to provide a continuum of services to its customers from new yacht construction to repairs, brokerage, charter services and more. Dedicated to integrity, honesty and passion, IYC/Trinity Yachts have excelled as demonstrated by their large presence in Monaco this year. Trinity Yachts is also showcasing its own 50m aluminum Tri-deck megayacht "Mine Games" at the 2008 MYS.
About International Yacht Collection: IYC is a global, full service yachting company offering brokerage, retail charter, charter management, yacht management and crew placement from its headquarters in Fort Lauderdale, Florida, as well as offices in Monaco; Nassau, Bahamas; Newport, RI; Palm Beach; and Sint Maarten. http://www.iyc.com
About Luxury Index: Luxury Index is an online marketplace where millions of affluent individuals worldwide can buy, sell, rent, charter or list luxury good and services - absolutely FREE. Luxury Index provides commercial and consumer generated listings of the world's most exclusive luxury properties, yachts, cars, planes, and personal services. Always just a click away, Luxury Index helps you live the life you dream for a day or everyday. http://www.LuxuryIndex.com
About Trinity Yachts, LLC: Trinity operates 2 new construction facilities, one in New Orleans, Louisiana and one in Gulfport, Mississippi and is capable of building custom superyachts over 300 feet. Trinity currently has 18 yachts under contract, 6 of which are being built for repeat clients. Trinity is ranked by Showboats International magazine as the number one builder of custom yachts in the US. http://www.trinityyachts.com
###