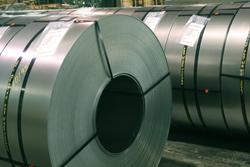 With this new light gauge slitter we have also become a leader in offering products to the Lawn and Garden and HVAC industries throughout the southeast
Cleveland, OH (Vocus) December 15, 2008 –
Monarch Steel Company, Inc., one of the country's largest suppliers of high quality flat hot rolled, cold rolled steel, and coated products has increased the production capacity of its Decatur, Alabama facility with the addition of a light gauge slitter. The new slitting line will add significant capability to slit cold rolled, and galvanized products ranging in thickness from .020" to .135" from 1 inch to 60 inches in width.
"This new capability rounds out a complete product offering to customers throughout the southeastern United States," said Josh Kaufman, owner of Monarch Steel Company. While other steel suppliers are cutting back on expansion plans and product lines, Monarch Steel has found an opportunity to expand its product and service offerings to current and new customers. "We can now better serve established manufacturing facilities in the southeast in areas like Decatur, Mobile, Birmingham, Atlanta, Tupelo, Jackson and Nashville with a one-stop-shop for hot rolled, hot rolled pickled and oiled, cold rolled, as well as coated products .020" thru .530" up to 75 inches wide."
"Our business model of providing superior service and quality products has been the right approach and has opened the door for expansion of our Decatur facility," Kaufman continued. "Monarch Steel is now even better positioned to support its customers JIT (just in time) manufacturing requirements."
Monarch Steel's Decatur Service Center now has slitting, multi-blanking, and cut to length capabilities to offer customers the most diverse and complete product selection throughout the southeast. "We're already known for quality products. This new slitter will allow customers to benefit from quicker delivery and transportation cost savings," Kaufman expanded. "With this new light gauge slitter we have also become a leader in offering products to the Lawn and Garden and HVAC industries throughout the southeast," continued Kaufman.
Monarch Steel Company, Inc., founded in 1934 and headquartered in Cleveland, OH, is one of the country's largest providers of hot rolled, cold rolled and galvanized steel products and maintains Service Centers in Decatur, Alabama, Cadiz, Kentucky and Cleveland, Ohio. Monarch Steel Company has been involved with ISO certification since 1998 and is currently ISO 9001 -2000 certified.
###