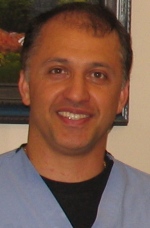 Torrance, CA (PRWEB) January 29, 2013
Dr. Robert Mondavi, Torrance dentist, is now offering teeth whitening treatments. These treatments whiten the teeth by several shades in just one office visit. Dr. Mondavi now offers a variety of gel-based dental whitening procedures, allowing patients to select the treatment that is right for them.
Dental whitening procedures all use a concentrated hydrogen peroxide-based gel to whiten the teeth. This gel, which is usually activated by a light or laser, penetrates the tooth enamel, removing years of stains and discolorations. Many of these procedures can whiten the teeth by several shades in just one or two hours. Once applied, the dental whitening treatment will keep the teeth white for several months, depending on the patient's oral health habits. Over the counter or take home touch-up treatments are available for use between office whitening treatments.
In addition to dental whitening treatments, Dr. Mondavi, Torrance teeth whitening specialist, also offers a variety of other services at his practice, Blue Sky Family Dental. Dr. Mondavi places dental implants for patients who are missing teeth, fits patients with porcelain veneers to cover badly stained, poorly spaces, or misshapen teeth, and fits patients with Invisalign aligners to help straighten their teeth. In addition to these cosmetic dental services, Dr. Mondavi also performs routine examinations and dental cleanings, fills cavities, treats periodontal disease, and places inlays and onlays, to name a few general dental services he provides.
About Dr. Mondavi, Cosmetic Dentist Torrance
Dr. Mondavi, Torrance porcelain veneers expert, graduated from the University of the Pacific in San Francisco with his Doctorate of Dental Surgery. After graduation, he went on to complete several advanced training courses in dental implants, oral bioesthetic form and function, and advanced cosmetic dentistry. Dr. Mondavi continues to enhance his knowledge of cosmetic and general dentistry through continuing education courses.
To make an appointment with Dr. Mondavi for dental whitening, or for any other cosmetic or general dental procedure, contact Blue Sky Family Dental at. Blue Sky Family Dental is open from Monday through Thursday, 9 am to 6 pm, Friday from 8:30 am to 2 pm, and is also open on Saturdays for current patients only. Dr. Mondavi and his staff are pleased to welcome new patients.
Contact
Blue Sky Family Dental
Dr. Robert Mondavi, DDS
17311 Yukon Ave.
Torrance, CA 90504
Phone: (310) 363-7126
Website: http://www.robertmondavidds.com