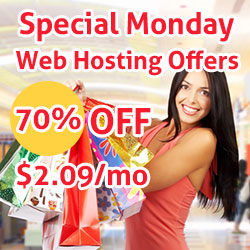 Web hosts are releasing their annually largest discounts on this Monday.
San Francisco, CA (PRWEB) December 01, 2014
Web hosting Cyber Monday offers are increasing rapidly as web hosts keep releasing special discounts to stimulate sales. To relieve shoppers from confusion towards too many choices, HostingReview360 has announced a collection of the best offers to make it easier to select a discount with true value.
In the collection, there are 3 recommendations for each of shared web hosting, VPS hosting and Windows hosting. The discounts range from 20% to 70%, and the prices are as low as $2.09/mo. Domain name and marketing credits are usually included as extras.
1) Shared Web Hosting Offers
BlueHost tops the recommendations for shared hosting. The company prices shared plans from $5.99/mo, while the current 42%-off promotion reduces the rate to $3.49/mo. Going through this unique promotional link, shoppers can not only enjoy the large discount on hosting fee, but also get 50% reduction on domain registration, dedicated IP, SpamExperts, SSL certificate, and so on.
This is a one-day-only promotion offered by BlueHost, ending today at 11:59pm PST.
The other 2 recommendations include A2Hosting and InMotion Hosting. Both of them give a special price of $3.49/mo, 50% off regular price.
2) VPS Hosting Offers
The web hosts with the best VPS hosting offers are A2Hosting, InMotion Hosting and BlueHost. The beneficial promotional link released by A2Hosting brings a 50% discount for VPS plans, with which the cost of a quality VPS is as low as $7.49/mo. One dedicated IP and 30-day refund guarantee are included.
The promotions from InMotion Hosting and BlueHost are also 50% discounts. The 2 companies share the same regular price of $29.99/mo and the same discounted one for $14.99/mo. The difference is that the former supplies 2 IP addresses while the latter provides 1 domain name and 1 IP.
3) Windows Hosting Offers
In terms of Windows hosting, Host4ASP.NET has the best offer for this special Monday. The company makes people signing up through this promotional link delighted by releasing a 70% discount and a low price of $2.09/mo. As is claimed by Host4ASP.NET, the discount will expire today at 11:59pm PST.
When Arvixe 30% discount is applied, the company's Windows hosting is accessible at an affordable rate of $3.5/mo. Unlimited disk space, website backups and one domain name are all available. WinHost, which has carried out an active promotion campaign, cuts the hosting fee down to $3.95/mo with a 20% discount.
For detailed information about the Monday sales, visit https://hostingreview360.com/monday-hosting-deals-2014-december-1st/.
About HostingReview360
Being a web hosting review site with a long history, HostingReview360 presents extensive tips and tutorials to help websites succeed. Now the editors are introducing a list of promotional offers for people who want a transfer, an upgrade, or a basic service to get started.