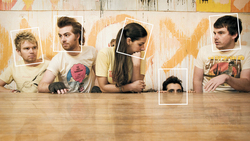 Circle's latest offering, Molasses Sandwiches has won them praises worldwide...
(PRWEB) November 16, 2010
Sydney based indie pop wunderkinds Circle are an anomaly of the dreamiest pop proportions. What began as a one man project has grown into a fully-fledged musical collective which has produced a string of critically praised albums, leading to comparisons with the likes of The Flaming Lips, Death Cab for Cutie and Sufjan Stevens. Their latest offering, Molasses Sandwiches has won them praises worldwide and secured the Aussies comp placements as well as commercial syncs. Since the band's inception in 2004 under the original moniker Opanoni and the Raindrops, they have continued to delight audiences with their special blend of dreamy, intelligent indie-pop.
Their first EP Stamps and Coins was the surprise hit of 2004, a rough but sweet mini-album which showcased what was to become the band's signature style of quirky and catchy indie-pop. The band followed up the success of Stamps and Coins with the 2006 release EGBDF. An intricate mix of 80s synths, obscure samples and indie rock arrangements, EGBDF is a richly layered soundscape which surprises the listener with hidden musical gems upon each subsequent listen. The album garnered praise for the band's original sound and for singer/songwriter Safi, who received glowing reviews for his wistful vocals and thoughtful lyrics. 2008 saw them offering up Just Keep Swimming: their first full-length effort under their new name Circle, and reflects the continuing maturity of the group's musical sound and then came Xmas Omas (2009) retaining all the unique samples, jangles and quirks which have become synonymous with the Circle sound. A concept mini-album of sorts, Xmas Omas saw the introduction of the chanteuse Rebecca Shave, whose dreamy vocals added an array of trinkets to this musical charm bracelet. Circle's commitment to producing well-crafted, intelligent and shamelessly beautiful indie-pop music has never been more prevalent than with Molasses Sandwiches. Tracked over twelve months in their home studio and mixed at Electrical Audio in Chicago, it retains all the quirks of their older material and at the same time shows a matured approach to the songwriting process.
###