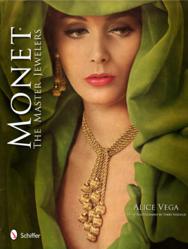 Monet: The Master Jewelers is a celebration of the beauty and heritage that is Monet Jewelry.
New York, NY (PRWEB) October 04, 2011
Nurture Your BOOKS™ proudly promotes the release of "Monet: The Master Jewelers" by Alice Vega -- the book blends fashion, art and history into a seamless collection of photos, ads and information that celebrates the Monet Company and their dedication to beautiful, high-quality craftsmanship.
With more than three years' worth of research, interviewing and cataloging, Alice Vega's book, "Monet: The Master Jewelers" is perfectly complimented by the modern photography by Terry Niefield; it strikes the perfect balance between vintage advertisements and photos, hand-drawn sketches and state-of-the art imagery.
About the book
Monet: The Master Jewelers is a long overdue, in-depth look at this innovative and enduring company. Through comprehensive research, little known facts about Monet and its founders, Michael and Joseph Chernow, as well as the people behind it, are revealed for the first time. Misconceptions about the company's origins and its early years are finally corrected. This is also a visual celebration of the artistry of Monet jewelry throughout the decades. Delving well beyond basic gold necklaces and earrings, you will be overwhelmed by the diversified and unique styling of the many bracelets, charms, earrings, and necklaces Monet pioneered throughout their long history. The Monet experience is further explored through vintage magazine and newspaper advertisements, patents, rare company and family photos, as well as never-before-published memorabilia from the early Monocraft years.
"Monet: The Master Jewelers" by Alice Vega is a veritable treasure-trove for art collectors, historians and lovers vintage photos; with at least 600 images inside this hardcover book, readers will spend hours perusing through this substantial, 288 page book, published by Schiffer Publishing, Ltd.
About the author
Alice Vega is a freelance fashion and graphic designer living in New York City. As a member of Costume Jewelry Collectors International and the Society of Jewelry Historians she has combined her long standing interest in collecting vintage jewelry with her passion for history, preservation and the arts in this her first book.
About Nurture Your BOOKS™
Nurture Your BOOKS™ is a global, online, independent author and book promotion Company based in Alberta Canada; it is owned and run by the company's CEO and Founder, Bobbie Crawford-McCoy. Nurture Your BOOKS™ continues to rise above industry standards by offering clients high quality, contract-free support and professional author services at an affordable price. They provide their expertise for a growing number of authors, both Independent and Traditional/Legacy Published, who require assistance with marketing and promoting their books.
###