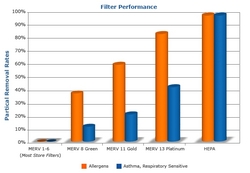 Home Filters in MERV 8, MERV 11, and MERV 13 provide the greatest efficiency being replaced every two months. If there is room in the return air grill, a 5
Austin, Texas (PRWEB) April 13, 2009
Allergy and asthma sufferers know spring can be the season of agony, but couple respiratory problems with the worst recession in history - and that means millions will be seeking relief on a tight budget. Alen Corp. - http://www.alencorp.com - a leading manufacturer of indoor air quality products, including home air filters, air purifiers and dehumidifiers, has five money saving tips that can inexpensively create clean, pure and eco-friendly home air:

Upgrade the home air filter. Pollen, mold spores, dust, dirt, smoke or smog and pet dander in the HVAC filter or furnace filter can cause expensive system failures. Upgrading to a "pleat guard" home air filter will keep dirt off the evaporator coil keeping air flow moving while improving cooling capacity. Upgrading to a pleated home air filter - whether MERV 8, MERV 11, or MERV 13 - greatly reduces costly HVAC equipment failure and electricity costs. Although the difference between a high quality pleated HVAC filter and a low cost, store-bought home air filter may be only a few dollars - spending those initial few extra dollars will save hundreds of dollars in HVAC repair bills. To easily meet the Green Building Council's LEED standards - simply change the existing HVAC filter to a MERV 13 pleated air filter. No retrofitting is required - Alen Corp. offers their Airnamic Platinum 1" Merv 13 Home Filter in more than 20 standard sizes with custom sizes also available. Alen home air filters remove 40 percent (Merv 8), 60 percent (Merv 11), or 80 percent (Merv 13) of airborne allergens (airborne-sized particles) - inexpensive store-bought air filters aren't rated to remove any of these.
Choose the home air filter with the lowest pressure drop. Studies have shown that the cost of the energy to push air through a low-cost HVAC filter can be up to eight times more than the cost of the actual air filter. Lower pressure drop HVAC filters result in reduced energy costs and fewer toxic carbon dioxide emissions. Alen Airnamic Silver Home Air Filters in MERV 8 have a minimal .15eg pressure drop and Alen Airnamic Gold Home Air Filters in MERV 11 have a .175eg pressure drop - 50 percent less air flow resistance compared to other leading brand air conditioner filters.
Look for an air filter that holds the dust. An excellent quality HVAC filter is anti-mircobial and electrostatically charged - similar to when dust is attracted to a TV screen. This means airborne allergens smaller than one micron will be captured on the air filter - not by the human lungs - producing clean and pure HVAC air quality in the home. A greater amount of dust loading on to the air filter results in a longer service life for HVAC equipment, substantially reduced number of visits from the HVAC repair man, and less HVAC product in landfills polluting the earth.
Mark home air filter changes on a calendar. Just like an oil change for the car, there is a specific point in time when the energy cost of a home air filter in active use is more expensive than buying a replacement. If the HVAC filter is changed too soon it is wasteful and potentially landfill clogging, yet too late and energy costs can increase and HVAC equipments risks damage. Since energy costs are more than 75% of home HVAC operating costs, air filters should be changed ahead of a low pressure drop. Alen Airnamic 1" Home Filters in MERV 8, MERV 11, and MERV 13 provide the greatest efficiency being replaced every two months. If there is room in the return air grill, a 5" air filter, such as the Alen Airnamic Silver Merv 8 is energy efficient while being 15 times more effective and 20 times more economical than the standard 1" store bought filters.
Evaluate the "True Cost" versus "Initial Cost" for optimal savings. Initial home air filter purchase price must be evaluated against three factors: 1) efficiency, 2) service life and, 3) energy costs to arrive at the true cost. If a home owner saves a few dollars each month buying a cheap store-bought air filter but:
uses one new filter each month that quickly clogs landfills;
calls the HVAC repair man and spends hard-earned cash for a service visit because the air conditioner isn't operating properly;
pays extra money on the energy bill each month;
breathes dirty home air escaping from the less expensive air filter containing pollen, dust, pet dander which lands in the lungs and on home furniture - was it really worth saving an initial few dollars?
Visit http://store.alencorp.com/Home-Air-Filters-s/55.htm for more information on home air filters.
About Alen Corp.
Since 2005, Texas-based Alen Corp. has been a leading manufacturer of innovative and green indoor air quality products including air purifiers, several HEPA air purifiers, portable air conditioners, dehumidifiers, as well as organic, non-toxic and environmentally friendly odor sprays.
Media Contact:
Ria Romano
RPR Public Relations, Inc.
Tel. 786-290-6413
###