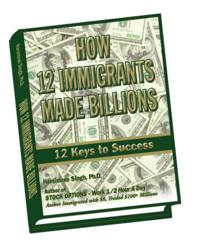 A positive mind discovers ways and means: It must be done.

A negative mind invents ways and means: It will not be done.
Upper Brookville, NY (PRWEB) April 27, 2012
The following are some extracts from Dr. Harsimran Singh's book,"How 12 Immigrants Made Billions-12 Keys to Success." Positive thoughts lay the foundation to making money and living a successful life.
One should do everything one can do to think positively and counter one's fears with reasoning. Oftentimes, the reasons behind self-doubt and fear force an individual to realize that failure is something created in one's mind and played out in one's daily life. The author writes to focus on "stop complaining." Instead, focus success by developing one's ability to think positively and by committing oneself to achieve success.
As much as one fails through irrational fear and self-doubt, those same energies can be better utilized by proactively seeking what others do not. Many times it is their positive thoughts and manner of thinking that differentiates them from others. These thoughts provide a stable platform to launch their ideas into fruition, transforming their dreams and aspirations into reality.
Dr. Singh stresses the need for not being passive. One should not accept fallacy that "something will come along." One should seize the opportunities one creates; they will not simply come knocking at one's door. Make it a purpose to think positively and allow that same commitment to drive one's plans for success. It can and will work but one must first believe that the individual is capable of accomplishing great things.
Rather than retreating or resorting to fear and self-doubt, one should move forward and apply this great power to every aspect of one's life, adds Dr.Singh. The more a person makes a habit of thinking positively, the more often one will see the brighter or "greener" side. Viewing one's life and goals with a positive light constantly in mind, one will realize that there is no problem that does not have some solution or benefit.
Keeping the importance of positivity for a person, the author advises not to suggest oneself that one cannot do something or is not good enough. Those things are in one's mind because one would continue to doubt self and will have fear. One cannot be afraid because one will be left behind while others move forward and create success. It is important to pay attention to the words one is feeding to the brain because if they are negative words, they will affect one's positivity and overall outlook on life. Instead, choose positive words and images that will protect and build self-esteem instead of breaking it down.
The more positive a person is, the more likely is that the individual will succeed. Dr.Singh always reminds that one should be positive because every little bit helps. Since the power of an individual's mind has enormous control over one's actions, one's positivity will prove a great asset in things to come.
When connecting success to financial gains and growth, it is only right to view one's positivity as an asset and negativity as a liability. "Wealthy and successful people invest their time and money into developing assets and limiting their liabilities," writes Dr.Singh. In a path to success, it is most important that one maintains positivity in every aspect of one's life. When a person is positive, the person's view of the world and the people around become positive as well. This is most essential because an individual is the creator of one's own destiny, one's own future, and one's own wealth potential. Any failures, misfortunes, or poor decisions people have made thus far in their lives are to be let go. Do not dwell on these instances of failure, lapses in judgment, or poor decisions.
The author stresses that instead of harbouring negative thoughts of failure that weigh a person down, the person is to transform these negative occurrences into learning experiences,. Learning is a progressive process, and progression is a positive movement forward. Such forward mobility will increase one's overall positive outlook and increase one's level of confidence.
About the author:
Dr.Harsimran Singh is a philanthropist who gave up millions of dollars for the establishment of charitable institutions and moved thousands of homeless people into decent housing. He has been featured in Fox News, CBS, many other TV and radio programs. The NY Times, NY Post and many other newspapers wrote full page articles on his rags to riches story. He has authored 13 inspirational books. Writing these books has been his way to give back to the people of America where he landed with almost nothing.