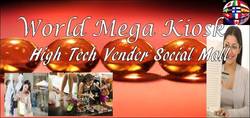 Although worldmegakiosk.net is near its final stages of set-up it is open to vendors to sign-up now; to maximize its potential, our site will revolutionize the way people shop and socialize
Lakewood, Washington (PRWEB) June 14, 2009
WorldMegaKiosk.net has created this debut high-tech mall with use of the latest technology, offering product sales live via web cam while communicating with buyers by chat or web microphone. This high-tech mall offers entrepreneurs a fresh approach to building customer loyalty, with a wide range of new merchandise outlets, as buyers seek the best deals. "Although worldmegakiosk.net is near its final stages of set-up it is open to vendors to sign-up now; to maximize its potential, our site will revolutionize the way people shop and socialize," said Quanita Schweinler.
The latest technology has aided in creating this social shopping network entertainment experience open to vendors across the globe; that's bring back that small town flavor when it comes to trading. Moreover, friends will find that distance doesn't matter when it comes to having a good time together. This network allows friends from across the globe to meet and communicate simultaneously while browsing dozens of vendor booths, even attending events together.
We believe, due to the unstableness of the economy, trading with a (vendor) neighbor next door after one has proven his legitimacy and consumer loyalty will prove to be of the highest value, to both buyers and sellers.
About http://www.WorldMegaKiosk.net
WorldMegaKiosk.net is a unique online shopping destination bringing back that small town flavor when it comes to trading, with the use of today's technology. The excitement of building a Five Star Mall, soon to be embellished with such cultures as Brazil, Jamaica, Philippines, Taiwan, and the US. That allows friends to gather, shop in dozens of stores, and attend social events all without leaving home. It is so exciting that one can imagine the sound of the culture's music; as the mall continues to grow, it will draw consumers who are looking for unique items.
"More than 36,000 viewers have been coming in as we are setting up this high-tech mall," said Schweinler. We have already seen a lot of interest from visitors to the site while it was under construction, thus we plan to promote vendors with the best endorsement from shoppers during our Grand Opening.
See you at the mall!
# # #