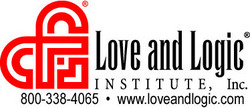 This book turns cents into sense!
Golden, CO (Vocus) November 3, 2010
With the US economy still in turmoil, money management is on everyone's minds these days. Teaching kids about money—early and often—is more essential than ever to prepare them for the fiscal responsibility they will need as adults. Will our future generation experience the joy of abundance or the devastation of debt?
Parents will benefit greatly with Love and Logic's book, "Millionaire Babies or Bankrupt Brats? Love and Logic Solutions to Teaching Kids About Money" by Jim Fay and Kristan Leatherman. This book will teach parents how to:

Put an end to the constant begging to buy
Deal with ungrateful kids or overindulgent relatives
Teach personal responsibility and financial responsibility at the same time
Use allowance to teach kids to spend, earn, borrow, save, share and invest wisely
Prepare children for the global economy they will inherit
Millionaire Babies provides a win-win approach: Children win because they will learn how to solve their own problems while gaining the confidence and capability they will need to meet life's financial challenges. And parents win because they will establish healthy control now without resorting to anger or threats and without the guilt of having to rescue their kids later—when they should be financially independent. This book turns cents into sense!
Millionaire Babies or Bankrupt Brats? is available online at http://www.loveandlogic.com or by calling 800-338-4065. Jim Fay and Kristan Leatherman are available for interviews. Contact Maggie Young if you are interested.
The Love and Logic® Institute is dedicated to making parenting and teaching fun and rewarding, instead of stressful and chaotic. They provide practical tools and techniques that help adults achieve respectful, healthy relationships with their children. All of their work is based on a psychologically sound parenting and teaching philosophy called Love and Logic. For more information visit http://www.loveandlogic.com.
Jim Fay is the co-founder of the Love and Logic Institute®, Inc. and one of America's most sought-after presenters in the fields of parenting and school discipline.
Kristan Leatherman is the founder of the Millionaire Babies Project, an initiative to raise America's awareness about the critical need to raise our children to become financially literate and responsible adults. Kristan has provided life skill consultations and seminars to thousands of parents and educators from coast to coast for the last twenty years.
CONTACT:
Maggie Young
Love and Logic Institute, Inc.
Phone: 303-278-7552
Fax: 800-455-7557
maggiey(at)loveandlogic(dot)com
http://www.loveandlogic.com
# # #