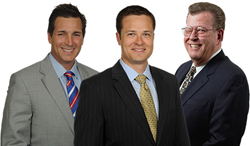 "This case highlights the key issues of Succession Planning and is a great example for our advisors." Denis Walsh, President & CEO Money Concepts
(PRWEB) July 07, 2015
Financial Planning & Wealth Management firm Money Concepts is pleased to spotlight a session on Successful Transition and Succession during their upcoming Financial Planning Congress. This session focuses on the successful succession and transition of a book of business through a buyout acquisition.
Dan Greenwell joined Money Concepts 30 years ago in 1985. He is President of Money Concepts Financial Planning Center in Louisville and Regional Director. He is now transitioning his practice to Chris Puffer and Brandon Lytle of Creative Capital Group. Chis Puffer is President of Creative Capital Group based in Louisville, KY and is one of the top planning centers within the independent network of Money Concepts.
Money Concepts President & CEO Denis Walsh stated "Our industry often struggles with how to value your business and effectively transition at retirement. This case highlights the key issues and is a great example for our advisors to consider in their own business."
About Money Concepts®:
Money Concepts Capital Corp. is a privately owned independent broker-dealer and dually registered as a Registered Investment Advisor based in Palm Beach Gardens, FL. Established in 1979, and its parent company Money Concepts International, Inc. has a network of approximately 700 financial professional's centers nationwide.
In addition to serving independent advisors, Money Concepts® provides turn-key wealth management services for community banks, credit unions and tax professionals. Money Concepts® advisors provide holistic planning and offer a full array of non-proprietary products and services including advisory and alternative investment services.
All Securities through Money Concepts Capital Corp.,
Member FINRA/SIPC Money Concepts Advisory
Service is a Registered Investment Advisor with the SEC
11440 N. Jog Road, Palm Beach Gardens, FL 33418
Tel: (561) 472-2000. The Creative Capital Group is an independent firm and not affiliated with Money Concepts.
For more information visit http://www.MoneyConcepts.com/Advisor and follow us on Facebook, LinkedIn and Twitter.
Share on TwitterShare on FacebookShare on Google+