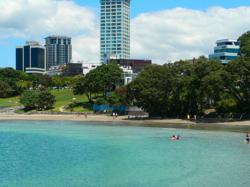 (PRWEB UK) 20 May 2013
It was a relatively straight-forward decision in the end – wide awake experienced staff in a fabulous daytime location providing a first rate service to an ever-growing number of UK clients needing their phone calls answered in the middle of the night,
It was the simple two-fold recognition by brother and sister team Ed Reeves and Rachel Clacher, Directors and Founders of telephone answering specialists Moneypenny, the UK's market leader, that working at night was never going to provide clients with the high levels of customer service they expected while at the same time being unprepared to risk potential health and lifestyle problems associated with staff working shifts.
A sabbatical year in Australia in 2010 gave Rachel the idea to open a brand new office, which at the flick of a switch from 8pm to 8am UK time, and yet still in daylight local time, would handle all the 'out of hours' calls required by the ever growing number of UK businesses looking for this service.
"The demand for a 24 hour service had been growing for a while, particularly among our larger clients, and we had resisted as we were concerned about the effect it would have on the quality of the service," says Rachel. "Our clients build up a relationship of trust with one PA or receptionist and no-one can work around the clock.
"We had looked at hiring staff to work overnight but we weren't confident service levels could be maintained so would have never taken that risk. I had managed to work out in Australia pretty seamlessly so we decided to look at neighbouring New Zealand as a possible base as it made more financial sense."
"A crucial factor in our decision making was the effect growing the business to become 24 hour could have on existing staff. We asked everybody at Moneypenny whether they wanted to work overnight or work in New Zealand?" adds Rachel. "Only four people out of more than 250 said they would be interested in night shifts while 40 said that they'd be happy working in New Zealand!"
Rachel chose the Auckland suburb of Takapuna for the new office, which opened in October 2012, as it offered the connectivity needed for the business itself, good local accommodation to rent for staff, all the amenities of a vibrant city but with a beach on the doorstep!
"Setting up the business was relatively straightforward," continues Rachel. "We were very lucky to find a fantastic person in Auckland to act as our contact out there and she was amazing at sorting things out for us. We also felt it was important to employ local staff to inject a level of consistency so we have two New Zealanders working alongside our UK staff, all of whom expressed an interest in our rolling secondment scheme, whereby teams rotate out there every six months. Flexible working of four days on, four days off was introduced so staff really have the opportunity to explore their new surroundings.
"By working on the other side of the world we're now able to offer a truly 24 hour first-rate service, with bright, chirpy and wide-awake people, which in turn has grown our client base. In the past we've had to say, 'I'm sorry but we can't do that' – but now we can. It has been an important business decision for us."
Jess Edwards is having the time of her life as one of the first group of UK PAs to go New Zealand. She said: "It is an absolutely fantastic opportunity and I am getting to see places I probably never would have the chance to see otherwise. The lifestyle here is amazing and the local people have welcomed us with open arms. We work four days on and four days off so there are lots of opportunities to explore. It's very different to the working week I am used to in the UK but this was deliberately planned so we can make the most of being here. I have visited Australia and both the north and south islands and generally thrown myself into the experience.
"Feedback from our clients, who are all UK based, has been great as they know their out of hours calls are being handled by wide-awake, cheerful people and they in turn are hearing positive things from the people they work with.
"I have been very fortunate to be part of the first team here and I know there is an ever-growing number of colleagues back home who are really keen to follow!"
"Making the move to New Zealand has made a big difference to our business," concludes Rachel. "Our first team has just returned to our UK base in Wrexham after a successful time over there and the list of volunteers to temporarily re-locate is growing all the time! Who knows where it will take us."