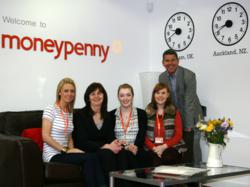 (PRWEB UK) 14 June 2013
The latest appointments take the total to over 300, with four staff at any one time based in Auckland, New Zealand, taking calls in the sunshine for UK businesses during our night time.
Wrexham Assembly Member Lesley Griffiths paid the company a visit to offer her congratulations. She said: "I have followed the progress of Moneypenny with interest over the years and it is wonderful to see them continuing to flourish both here and in New Zealand now too. They are setting a shining example by demonstrating that in spite of the economic downturn, businesses can thrive if they are dynamic and creative, which in turn helps to boost the regional economy. They should also be congratulated on being recognised this year, for the third time, as one of The Sunday Times Top 100 Companies To Work For."
Operating out of three buildings, Moneypenny continues to forge forward, handling in the region of 30,000 calls a day for around 6,000 businesses from sole traders to multi-national corporations either on an overflow basis or by providing a fully outsourced telephone answering service.
Moneypenny Managing Director Glenn Jackson comments: "We continue to experience growth in all areas with a significant amount of our new business generated from referrals, word of mouth and industry recommendations. We work hard to provide the very best experience for our clients which results in high levels of customer satisfaction. At a time when many companies are tightening their belts, we not only provide a seamless personal service, but can also help with cost savings as well as potentially chopping out HR headaches."
For further information, contact:
Debbie Barton, Moneypenny Communications: debbie.barton(at)moneypenny(dot)co(dot)uk
About Moneypenny:
Moneypenny looks after telephone calls for businesses of all shapes and sizes - from sole traders right up to multinational corporations. For larger companies, Moneypenny can either support an existing reception team or provide a fully outsourced switchboard function. Based in Wrexham, and Auckland, New Zealand, Moneypenny has over 300 staff, a figure that is growing at a rapid rate. The company was founded by a brother and sister team in 2000 and the company now handles in excess of eight million calls a year. Moneypenny is proud to have won the Queen's Award for Enterprise and was in The Sunday Times 100 Best Companies to Work for 2009/11/13.