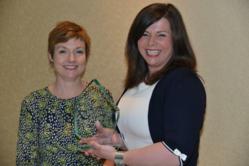 (PRWEB UK) 3 June 2013
Moneypenny co-founder Rachel Clacher has been celebrating great leadership in Wales by congratulating Inspector Nicola Flower of South Wales Police, the winner of the 'Women in Leadership' category sponsored by Moneypenny at this year's Leading Wales Awards.
Nicola was one of eight winners chosen from 24 finalists across eight categories spanning the public, private, voluntary / not-for-profit and social enterprise sectors and cross-sectoral categories including Team, Women, Mature and Young Leader. She was recognised for her work with the Female Police Association and for bringing the International Association of Women's Police conference to Wales in 2015.
Barbara Chidgey, spokesperson for the Leading Wales Awards, said; "Now in our ninth year, the awards have successfully recognised and celebrated the efforts of hundreds of leaders in Wales that play a crucial role in today's society.
"Every year there is a theme that shines through and this year it was passion. The judges were unanimous in that every finalist exhibited a real passion, not only for the roles they play but also a passion to achieve and to drive forward the success of their organisation.
"It is always a tough contest because every story is inspirational in its own right. All the winners and finalists should be proud of their achievements, and by sharing these success stories we can all learn and really help to shape strong leadership in Wales."
Rachel added: "It is always a pleasure to recognise great leadership in Wales and Nicola was a shining example of what can be achieved with the vision, determination and drive to succeed. Our congratulations go to the finalists and winners in all categories who clearly demonstrated their commitment to making positive changes whether that be in their business, organisation, their local community or for Wales as a whole."
Details of the other finalists and judges are available on the website [http://www.leadingwalesawards.com
For more information regarding the Leading Wales Awards, please contact Alex McArthur on 07791 200391 or email alex(at)workwith(dot)co(dot)uk
For more on Moneypenny call 08000 199 944
hello(at)moneypenny(dot)co(dot)uk
http://www.moneypenny.co.uk
About Moneypenny
Moneypenny looks after telephone calls for businesses of all shapes and sizes - from sole traders right up to multinational corporations. For larger companies, Moneypenny can either support an existing reception team or provide a fully outsourced switchboard function. Based in Wrexham and Auckland New Zealand, Moneypenny has around 280 staff, a figure that is growing at a rapid rate. The company was founded by a brother and sister team in 2000 and the company now handles in excess of 8 million calls a year for more than 6,000 clients. Moneypenny is proud to have won the Queen's Award for Enterprise and was in The Sunday Times 100 Best Companies to Work for 2009/11/13.