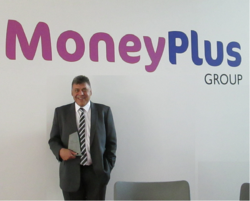 Congratulations to Ravi, who deserves recognition for a lot of hard work and commitment to standards and learning in the industry
(PRWEB UK) 10 November 2012
Ravi Dutt, who has been with Debt Free Me since 2004, attended the Debt Resolution Forum 2012 conference in Manchester last week where he was awarded CertDR qualified learner of the year. The award, which complements the standards required by Mortgage Advisors, Insolvency Practitioners, Debt Management Advisors, Debt Counsellors, Money Advisors and Credit Managers, is fully accredited by Edexcel and has been designed in conjunction with leading financial services consultants, Doran Scott Williams (DSW).
Chris Davis, CEO of MoneyPlus Group was delighted with Ravi's award. "Congratulations to Ravi, who deserves recognition for a lot of hard work and commitment to standards and learning in the industry. We take great pride in our people and encourage them to develop their skills so that we can be confident in the advice we give our customers."
Financial Solutions Advisor, Ravi, currently specialises in customer home visits. "Home visits are a much more personal experience, many people feel less intimidated and more secure in their own home. The high levels of customer retention and loyalty enjoyed by Debt Free Me are testament to our approach."
"Home visits allow us to complete a detailed income and expenditure exercise where a customer can have their figures at hand, and advise them of the best financial solution to fit their particular situation, be that a Debt Management Plan (DMP), an Individual Voluntary Arrangement (IVA), or other forms of debt relief."
Debt Free Me, latest in a series of acquisitions by MoneyPlus Group, offer debt advice to over 1,000 consumers each month across all of the UK. The Manchester based group are now providing a range of debt solutions to over 34,000 people, with other brands they operate such as The Debt People, Chiltern Debt Management and Easierdebt.
After 8 years with Debt Free Me, Ravi speaks out about his excitement about joining the team at MoneyPlus Group. "MoneyPlus Group is a growing company with a clear strategy for the future. At the heart of this philosophy lies the desire to provide all its customers with the most appropriate advice. I am looking forward to working with the company and meeting the team."