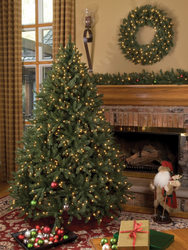 LED holiday lighting strands last up to 11 holiday seasons, rarely burn out and will save you up to $100 per year on your energy bill.
Alpharetta, GA (PRWEB) October 30, 2008 - Alpharetta, Georgia-
based Christmas Lights Etc. (http://www.christmaslightsetc.com ), one of the largest U.S. suppliers of premium Christmas trees, decorations and holiday lighting for homes, commercial decorators and businesses is offering a few money saving tips to help consumers cut down on the cost of decorating this holiday season.
First of all, customers purchasing Christmas lighting this year may want to consider buying eco-friendly Energy Star certified LED Christmas Lights for indoor and outdoor use. Energy Star LEDs are brighter, last longer and are more energy efficient than traditional incandescent lights. LEDs typically use up to 98% less energy, reducing the overall cost to power them by that same margin. As an example, running 600 LED lights versus 600 traditional C7 incandescent lights for six hours a day over a 30-day period this Christmas can reduce your light bill from $90.72 to just $1.24; a total savings of $89.48 when using LEDs (based on an average cost of $0.12 per kilowatt hour). While it's true that purchasing LED Christmas lights will cost you a little more upfront, the true price of ownership makes LEDs a better investment overall year over year. In fact, in an October 2008 announcement, the New York State Energy Research and Development Authority (NYSERDA) recently recommended that all New York State residents ''upgrade decorative or holiday lighting with ENERGY STAR qualified Light-Emitting Diode (LED) holiday lighting strands,'' citing that "LED holiday lighting strands last up to 11 holiday seasons, rarely burn out and will save you up to $100 per year on your energy bill."
Next, concerning Christmas trees, it's often been said that purchasing a real tree provides specific benefits that outweigh the cost and hassle associated with supporting real trees. Benefits like the experiences that come with going out as a family to select the real tree, watering it and disposing of it every year. That considered, Artificial Christmas Trees remain the more popular and cost effective choice for consumers wanting beautiful tree centerpieces for their homes. While the cost of an Artificial Christmas tree is on average a little more than twice the cost of a real tree, many artificial trees come pre-lit (so that you don't have the added expense of buying lights for them), offer 10 year warranties and typically outlast those warranties. In essence, one artificial Christmas tree has a value of five, or even ten real trees, but can cost the equivalent of just two or three (depending upon the quality). So, although purchasing a real tree this year may seem like the smart, money-saving choice, it could actually cost you in the long run.
Finally, shopping online is a smart and convenient way for consumers to get premium quality Christmas items for less. Under most circumstances, buying over the internet helps customers avoid the additional burden of sales tax and eliminates the travel time and fuel costs associated with driving from one retail store to the next. As a leading online supplier of Artificial Christmas Trees and Energy Star certified LED lighting, Christmas Lights Etc. has satisfied over 150,000 orders by making it easy for customers to choose the right Christmas products for them. This year, in addition to presenting consumers with the widest selection of premium, low cost, Prelit Christmas Trees, Christmas Lights Etc. is helping customers save more by providing FREE Shipping on all Christmas tree orders over $95. Those orders, when placed on the ChristmasLightsEtc.com website prior to 12:30PM Eastern Time, are shipped out on the same business day, making certain that patrons receive their purchases this season in the shortest amount of time.
Offering comment, William Hale, co-founder of Christmas Lights Etc. recently said, ''Our company is built upon serving our customers needs. Great customer service, price and quality are founding traditions for us that will help us to satisfy customers again this year the way we have in previous years. We're glad to be a central source for budget-conscious Christmas consumers.''
About Christmas Lights, Etc.
Established in 2000, Christmas Lights, Etc. is a nationwide leading online retailer of premium Artificial Christmas Trees, Christmas Lights, Christmas Garland, Christmas Decorations, and Christmas Ornaments. Their products have been featured by the CBS Early Morning Show, Smart Money magazine, Wall Street Journal, and HGTV to name a few.
For more information about Christmas Lights Etc., visit http://www.christmaslightsetc.com or call 866-962-7382.
Contact:
Aaron Hassen, 866-962-7382, Ext. 5016
Email: media(at)christmaslightsetc.com
###