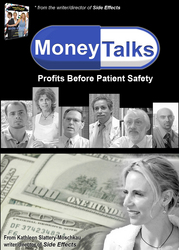 Money Talks: Profits Before Patient Safety
Los Angeles, CA (PRWEB) August 18, 2009
As the health care reform debate takes center stage, filmmakers Kathleen Slattery-Moschkau and Holly Mosher have put drug company influence in the spotlight and posted their award-winning documentary, "Money Talks: Profits Before Patient Safety", online for free.
The timely film offers compelling insight into the pharmaceutical industry's questionable marketing tactics that drive up health care costs, and its billion dollar profits that are used to influence decision makers.
"There's a lack of knowledge on what's going on behind the scenes of the health care industry," says filmmaker and radio host Slattery-Moschkau who previously spent a decade working as a pharma rep for two of the nation's top drug companies before going on to make three films on issues surrounding the industry.
"If more people knew how their doctors were being influenced, how much was being spent on marketing new drugs, or the extent of the lobbying that's going on in DC, they'd pay closer attention to what's at stake with health care reform," she says.
Slattery-Moschkau adds, "Pharma companies have been very successful and profitable with the status quo. And like health insurance companies, they'll fight true reform and the best interest of patients to protect their bottom line.
Since leaving the pharmaceutical industry Slattery-Moschkau has dedicated her career to bringing consumer health issues to light via her films (including "Side Effects" starring Katherine Heigl) and weekly radio program, The Kathleen Show.
To provide people with critical information surrounding this topic, "Money Talks" is available in its entirety at the show Website, along with a recent interview featuring leading health care reform advocate Howard Dean.
About "Money Talks"
The 50-minute documentary, which was selected as one of the most important films of 2008 by the American Library Association, features interviews with medical community heavy-hitters including Harvard's Dr. John Abramson, author of Overdosed America; Columbia University's Dr. Bob Goodman, founder of the 'No Free Lunch' program; Alex Sugerman-Brozan, director of Prescription Access Litigation; Dr. Jerome Hoffman of UCLA Medical School; and investigative journalist Jeanne Lenzer. Filmmaker and radio host, Kathleen Slattery-Moschkau, also appears in the film.
###