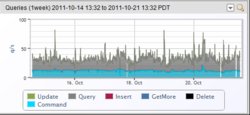 LogicMonitor makes it easy to know MongoDB status, memory usage, number of operations, and more.
Santa Barbara, CA (PRWEB) October 24, 2011
Database administrators looking for an easier, less time-consuming way to implement monitoring for the increasingly popular NoSQL database, MongoDB, will appreciate the latest addition to LogicMonitor's hosted monitoring software. Now with native MongoDB monitoring, users can now get in-depth performance and availability monitoring out-of-the-box, without having to spend hours writing custom scripts.
The latest LogicMonitor enhancements give companies the ability to not only monitor general MongoDB statistics (i.e. operations per second, memory usage, locks, etc.), but to also extract valuable business intelligence from MongoDB data that would be difficult to obtain otherwise.
While other tools can extract raw data, LogicMonitor's powerful graphing engine takes that data and presents it in a visual form that simplifies troubleshooting, and helps identify trends that lead to smarter decision making for both IT and business.
"From interviewing our customers, we've found that it's not unusual for business executives to spend more time looking at LogicMonitor's graphs and dashboards than tech ops" says LogicMonitor CEO, Kevin McGibben. "We're increasing IT awareness throughout the enterprise."
With built-in monitoring intelligence for nearly every device and application in the modern data center, from network all the way through back-end storage systems, LogicMonitor's hosted network monitoring tool is significantly reducing the complexity, the number of tools, and the time required to achieve effective monitoring.
Companies interested in LogicMonitor can deploy a fully functioning 14-day free trial at http://www.LogicMonitor.com.
About LogicMonitor
LogicMonitor LLC is a leading provider of SaaS-based monitoring software for physical, virtual, and cloud-based IT environments. Headquartered in Santa Barbara, California, LogicMonitor was founded by a team of data center operations managers and technology experts dedicated to making monitoring simple. The company is a NetApp, VMware, Dell, HP, and Citrix technology partner. In addition to being recognized as one of the top network monitoring solutions by TechRepublic, LogicMonitor recently received the WebHost Magazine Editors' Choice Award for comprehensive network monitoring, and received the Best of SaaS Showplace (BoSS) Award for delivering outstanding business value with a Software-as-a-Service (SaaS) solution. For more info, visit http://www.logicmonitor.com or call (888) 41LOGIC.
###