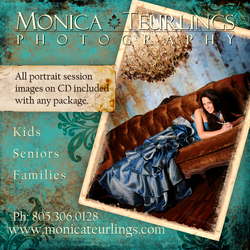 In a slower economy there are things we can cut back on like coffee drinks and manicures. These things won't matter a year from now. But capturing a child's personality at that moment in time does matter
Simi Valley, CA (PRWEB) April 21, 2009
In this economy where families are forced to cut back, Monica Teurlings Photography has redesigned its style to create fresh, vibrant and affordable portraits without sacrificing artistry quality.
For over 14 years, Monica Teurlings was well known in the photography industry as the artist of choice. Clients traveled from all over the world to have their children captured in Teurlings signature style. Children of the Hollywood elite lined up for Teurlings' eye-catching imagery and Nordstrom contracted her exclusively to photograph their clientele.
During a brief hiatus, Teurlings took time to redesign her signature artistry line. Realizing the economy may limit families from capturing the most important memories in their lives, Teurlings knew she had to do more. "In a slower economy there are things we can cut back on like coffee drinks and manicures. These things won't matter a year from now. But capturing a child's personality at that moment in time does matter," stresses Teurlings.
Clients recognize that Monica Teurlings Photography still delivers the highest artistic quality and now they also receive a CD with images from their portrait session. While most exclusive photographers don't allow clients access to their proofs, Teurlings enthusiastically includes the CD as part of the package. She emphasizes that if enlargements are not in the client's budget, the client still has the memories saved on a CD for later use and this brief precious time of a child's life has been captured.
For more information visit http://www.monicateurlings.com.
Contact:
Monica Teurlings
Monica Teurlings Photography
805-306-0128
info @ monicateurlings.com
###