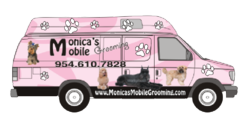 Gentle and Professional Grooming at Your Convenience
Fort Lauderdale, FL (PRWEB) March 21, 2012
Monica Harper obviously loves animals, so it is no surprise she has developed an impressively large collection of regular clients over the years. Her customers trust her completely with their beloved pets because they know that her work is her passion and that she will treat their animals with nothing but care, love, and respect. Even shy, nervous, and scared dogs quickly warm up to her; and many even eagerly await her arrival with excited anticipation.
"We have been using Monica's Mobile Grooming for over 3 years. Our dog Champ is always so excited to see her when she arrives. Her van is spotless and extremely well equipped. She is a pleasure to work with...and she gives a really terrific haircut." ~Naomi R.
Instead of enduring the stress, mess, hassle, and even potential danger of bringing pets to a certain store or company to be groomed, Monica comes to her clients' homes, and treats their animals in the comfort of her specially designed van. Monica's Mobile Grooming eliminates the fear, stressful car rides, discomfort, and potential hazards of transporting pets to stores, and leaving them in the hands of strangers where they may be surrounded by chaos and many other animals, mistreated by employees, and handled carelessly in an assembly line fashion. Pets may be locked and left in cages, sometimes wet, just waiting endlessly to be dried, treated by inexperienced workers, and possibly even injured by these strangers. Monica, on the other hand, dedicates herself fully to her clients, developing individual relationships with each, and ensures that pets will get the best, most professional grooming possible.
Monica completes all services herself, always working straight through, never taking her eyes nor hands off of the pet, and trusting no one else to provide the excellent and tender care she gives them. Pets are 100% safe and feel comfortable in her hands because she does everything possible to provide them with nothing but the best, safest, meticulously clean, and most pleasant atmosphere they deserve, treats each individual animal with special and specific attention, and takes all necessary precautions, with their safety, care, and comfort being her number one priority at all times.
Monica's Mobile Grooming Van contains everything necessary to conduct her services, and she treats only one pet at a time, devoting 100% of her attention to her current client. Her "totally self-contained spa on wheels" contains the following: a climate controlled system ensuring year round comfort, a full size bathtub, a spa that has air conditioning and heat, a hydraulic table to assist pets up to the grooming table and into the tub, a hydro surge bathing system that provides an invigorating massage while washing, a high velocity dryer, and the water tanks are filled with fresh water daily. Monica's Mobile Grooming provides services ranging from full grooming, always to breed standards, which ends with a full body hair cut, to premium baths, that include premium, and now, all natural shampoo and conditioner, teeth brushing, nail clipping and filing, and more! She never uses pesticides and everything is environmentally friendly to further her "Going Green." Monica, who is certified in pet CPR, works closely with various organizations, regularly attends seminars, takes classes, and is always researching, to help her provide nothing but superior services for all her much-loved clients and furry friends!
As one of her clients said, "Monica doesn't groom all dogs, just the lucky ones!"
Contact Information:
Monica Harper
Phone: 954-610-7828
Email: monicasmobilegrooming(at)yahoo(dot)com
Website: http://www.monicasmobilegrooming.com