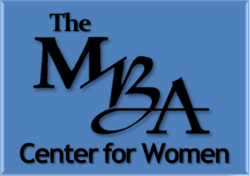 The MBACW focuses exclusively on entrepreneurial education and research.
Atlanta, GA (PRWEB) October 12, 2012
Century Small Business Solutions is focusing on helping women entrepreneurs get better, smarter and richer! On October 16, 2012, the virtual MBA Center for Women™ (MBACW) will be open to women business owners and entrepreneurs. Founded by Monique Stoner, the MBACW business training and leadership development resources will be available to women entrepreneurs' worldwide, on-demand, via the web.
The MBA Center for Women™ offers what no one else does in the online training industry – an exclusive focus on entrepreneurial education and research. MBACW helps women entrepreneurs close the gap between where their small business needs to go and the knowledge required to get them there. The MBACW helps women become "Masters in Business Acumen" through developing the skills, competencies, and insights needed to achieve more than they ever thought possible.
No other training platform or blog offers the same depth of learning tools for business acumen and personal development as the MBA Center for Women™. The content includes a mix of formats such as downloadable documents; online training programs; audio downloads; and business simulations. The resources available through the MBACW include, but are not limited to, the following:

BUSINESS SKILL LIBRARIES - The business skill libraries cover 7 primary topic areas and 5 sub-topics
COMPETENCY ASSESSMENTS - A variety of self-assessments to help women evaluate their skills in several key areas
WEB-BASED TRAINING COURSES - On-Demand e-Learning Courses designed to provide flexible, cost-effective business training solutions for entrepreneurs
BITE-SIZED EMPOWERMENT™ COURSES – 45 – 60 minute bite-sized portions of education and empowerment on a wide range of business skills and personal effectiveness topics
THE INSIGHTS™ LEARNING SERIES - This Learning Series includes research reports, white papers, special reports and toolkits to enhance learning and keep entrepreneurs abreast of the latest thought leadership
BOOK REVIEWS - This resource helps entrepreneurs hone in on the most insightful books on the market and point them directly to reading material that will expand their business skillset
A limited preview of the MBA Center for Women™ website will be available on Friday, October 12, 2012. The MBACW officially opens on Tuesday, October, 16, 2012. Many of the virtual resources will be available at no charge. Paid membership subscriptions will provide exclusive benefits, products, discounts and resources. Take a look at the MBACW E-Brochure video for detailed information about the services.
To be added to the promotion contact list and have your name entered to receive special introductory offers, you can sign-up at The MBA Center for Women