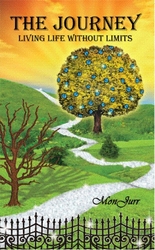 This is a life changing book that was purposed by God to impact lives all over the world
Washington, DC (Vocus) November 24, 2010
MonJurr delivers powerful truths and revelations that empower readers to break through the veil that may have shrouded individuals from true happiness and peace for years. No more viewing pressures of life as a detriment, but rather as a way to breakthrough to your divine destiny.
MonJurr grew up with six siblings and both parents working full time. Without his parents to guide him, he was constantly getting into trouble. His situation and decisions put him in compromising positions repeatedly throughout his life, but MonJurr claims in the fall of 2004 God spoke to him. MonJurr says God asked him to be His servant and release himself to Him, and that because of his sacrifice he was able to conquer his adversities.
In The Journey: Living Life without Limits, each chapter is a building block that reveals the illusion of beliefs preventing success. The topics in the book include:

The secrets to unlocking a fulfilling life
Realizing that all you desire is yours, with no more limitations
Knowing that joy and peace can be your everyday experience
Removing fear and returning true laughter to your life
Experiencing great happiness with loved ones and friends
The Journey: Living Life without Limits, builds layers of confidence, helping readers remove any mistruths and doubts that prevent them from reaching their full potential. MonJurr discusses how we all are created as spiritual beings and how we can discover a purposeful, fulfilling life.
"This is a life changing book that was purposed by God to impact lives all over the world," writes MonJurr. "Start your journey today."
About the Author
MonJurr is a motivational speaker, mentor, life coach and counselor. In addition, he has written, produced and directed a mini-film Conscious Imprisonment. He mentors teenagers as well as adults, attempting to free them from the tyranny of frustration and feelings of unworthiness, and to open their eyes to the truth of God within. This is MonJurr's first publication. For more information on MonJurr, please visit http://www.monjurr.com.
AuthorHouse is a premier book publisher for emerging, self-published authors. For more information, please visit http://www.authorhouse.com.
###