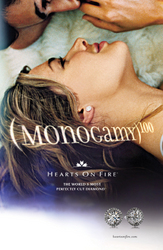 making time for each other
New York, NY (PRWEB) October 30, 2007
While the perception of monogamy may be out of style, 87 percent of men and women ages 25 aspire to be in a monogamous relationship, according to a new nationwide survey unveiled today by Hearts On Fire, the pre-eminent consumer brand in the fine diamond jewelry business.
According to the survey of 1000 men and women ages 25-65, less than half of the respondents (37 percent) said monogamy is in style, yet 78 percent of the respondents said they were currently in a monogamous relationship. And they define monogamy as sexy! In fact, 92 percent of both men and women share the belief that monogamy is sexy and that the best kind of relationship is a monogamous one that is passionate and intense (83 percent).
The Aspiration of Monogamy Hasn't Reached Hollywood
Despite the fact that the term monogamy has been recently used on hit series like HBO's "Tell Me You Love Me," and "Entourage" and ABC's "Brothers and Sisters," Hollywood is still setting a bad example as it relates to the positive aspects of monogamy, according to 75 percent of the respondents surveyed. In fact, the survey found that only 26 percent of the respondents believe television shows portray committed relationships in a positive light.
Communication Cited as Most Important Relationship Factor
More than half (57 percent) of the respondents cited "good communication" as the most important component to sustaining a healthy, long-lasting monogamous relationship, followed by "making time for each other" (20 percent), "compromise" (13 percent), "passion and intensity" (5 percent), and a "healthy sex life" (5 percent). *Chart
Monogamy Defined as Committed, Healthy Relationship Not Marriage
62 percent defined monogamy as the practice of being in a relationship with one person at a time, followed by "marriage with only one person at a time (20 percent), "being faithful and passionate in a relationship" (12 percent) and the "practice of marrying once during a lifetime" (6 percent). *Chart
"The survey reaffirms our own market research showing that the majority of men and women want to be in a deeply committed and satisfying relationship and aspire to be monogamous," said Caryl Capeci, Vice President of Marketing for Hearts On Fire. Hearts On Fire conducted the study in conjunction with the launch of its new advertising campaign (MONOGAMY)100, which was also released today separately. "The Monogamy to the hundredth power campaign will resonate with passionate, quality driven consumers who want to express their most intense relationship with the highest quality diamond."
About the Survey
Hearts On Fire commissioned an independent, national survey in September 2007. One-thousand people responded; 51 percent men and 49 percent women, ages 25-65 with a marital status of 21 percent single, 61 percent married, 14 percent divorced, and 3 percent widowed. The survey was conducted by Hearts On Fire using online research firm, Insight Express and have a margin of error of ±3 percent. The sample was recruited via e-RDD which randomly invites individuals from over 10,000 web properties to participate in research initiatives. e-RDD eliminates sample bias by combining unparalleled respondent reach with diversification and randomization - fundamental underpinnings of sampling theory and sound market research principles.
About Hearts On Fire®
The Hearts On Fire Company (HOF), based in Boston MA, is successfully building the pre-eminent consumer brand in the fine diamond jewelry business, powered by the pulsating energy of its extraordinary diamonds. Founded in 1996, Hearts On Fire has established a new industry standard for diamond cutting perfection, enabling the Company to become the world's fastest growing diamond brand. The Company continues to redefine the industry through its extraordinary diamonds, sophisticated marketing and training programs and unique retail relationships. Hearts On Fire, The World's Most Perfectly Cut Diamond®, is carried in 31 countries, including 600 U.S. retail locations, as well as locations throughout the U.K., Asia, and the Caribbean. For more information, please visit http://www.heartsonfire.com.
(Charts to Follow)
###