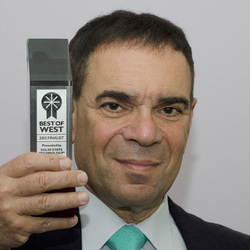 Monolithic 3D provides a very attractive alternative to dimensional scaling, especially in view of the uncertainty and costs associated with next generation lithography
San Jose, CA (PRWEB) December 04, 2012
MonolithIC 3D Inc., a Silicon Valley startup, announced today that it has been granted its 20th patent on monolithic 3D-IC technology. The company holds in its portfolio 17 issued and 3 granted patents for the breakthrough technology that can revolutionize the semiconductor industry. Monolithic 3D-IC technology provides IC designers and manufacturers 10,000x higher vertical connectivity than state-of-the-art Through-Silicon Via (TSV) 3D technology. In addition to the 17 issued patents, the company has more than 50 patents pending, making it one of the key players in the 3D-IC field. MonolithIC 3D Inc. was selected as a Finalist of the "Best of Semicon West 2011" for its disruptive technology. On the company's webpage you can find the complete list of issued patents and details about the innovative technology it provides.
Recently the industry has seen NAND Flash vendors announcing and gearing up production for monolithic 3D NV memories utilizing polysilicon based architectures. MonolithIC 3D technology is based on monocrystalline technology, which offers an even better foundation for this emerging new trend. In addition, the monolithic 3D technology empowers older wafer fabs to offer competitive new products and could offer advanced fabs a longer effective manufacturing road map. The MonolithIC 3D IP portfolio now covers logic devices, memory devices such as NV NAND R-RAM and DRAM, and electro-optic derivatives such as micro-displays and multi-spectrum imaging. Further, the company was granted broad coverage for its wafer-scale-integration technology.
"Monolithic 3D provides a very attractive alternative to dimensional scaling, especially in view of the uncertainty and costs associated with next generation lithography," said Zvi Or-Bach, President and CEO of MonolithIC 3D Inc. "MonolithIC 3D Inc. is committed to the promotion of the 3D IC as the preferred path to continue device integration per Moore's Law. We believe these issued patents will help us motivate early adopters to bring monolithic 3D IC to the market by providing the early adopters an exclusive position to have a differentiated IP. This will protect their pioneering efforts and justify the extra cost and risk associated with introducing new technology to the market".
In the semiconductor industry a strong IP portfolio could enable companies to keep high margins. This is ever more critical as the investment in fab capacity is growing at an accelerated rate. Zvi Or-Bach, Founder and CEO of MonolithIC 3D Inc. described in the company's latest blog post, that in some cases, even a giant company with years of tradition could lose its market value and be passed over by a smaller company that has a differentiated IP for its products.
"The USPTO has continued to recognize the innovative methods, devices, and systems that MonolithIC 3D Inc. is bringing to the semiconductor industry. We are very pleased to see that our innovation is clearly different than prior work in the space and this has been recognized by the very broad claims that have been allowed in these patents. We are still expanding our IP portfolio by continued innovation in the space of monolithic 3D IC technology", said Brian Cronquist, VP of Technology & IP at MonolithIC 3D Inc.
About MonolithIC 3D Inc.
MonolithIC 3D Inc. is an IP company dedicated to innovation in semiconductor design and fabrication. It invented and developed a practical path to the monolithic 3D Integrated Circuit, which includes multiple derivatives for Logic, Memory and Electro Optic devices. The company was selected as a finalist of the Best of West 2011, which recognizes the most important product and technology developments at Semicon West. More information about the company, including detailed technical information, can be found at its website.
###