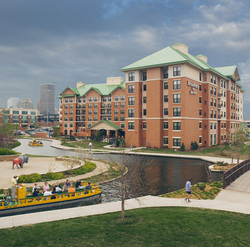 "The Monscierge is the next step in technology for our hotel... It's all those things the guests truly want right at their fingertips and more convenient than our business center." Christian Harris, General Manager, Residence Inn by Marriott OKC
Oklahoma City, OK (PRWEB) March 7, 2011
Today, Monscierge installs its first Oklahoma partner property and neighbor, the Residence Inn by Marriott Oklahoma City Downtown/Bricktown.
The Monscierge Innovation Center has been located in the Bricktown district of Oklahoma City since the company began in 2009. Until recently, the company focused strategically on larger cities, as they tend to invest in new technology first.
"Initially we installed this type of technology in major and destination cities, but it's a good feeling to be a homegrown technology company that makes useful, desirable products for the hospitality industry, globally and locally," said Monscierge CTO, Marcus Robinson. "With developments like the urban living initiatives and the Thunder moving here, Oklahoma City is growing into more of a metropolitan city. We believe that partnering with the Residence Inn by Marriott helps us be a part of putting our best foot forward as a city."
The Monscierge team members aren't the only ones anticipating today's install. The Residence Inn by Marriott Downtown/Bricktown staff also sees the benefit and potential of this kind of technology.
"We can't wait," said Christian Harris, Residence Inn by Marriott Downtown/Bricktown general manager. "The Monscierge is the next step in technology for our hotel, and it's what all the guests are looking for –– to be plugged in. It's all those things the guests truly want right at their fingertips and more convenient than our business center."
While Monscierge provides important tools for their guests (like flight status, boarding pass printing, weather and directions), one of the Residence Inn by Marriott's favorite features is the local recommendations. At the Residence Inn by Marriott Downtown/Bricktown, guests are getting recommendations from locals on a service designed by locals.
"What I really like –– and what our team likes –– is we get to give our local favorites as recommendations to our guests. We get to help them enjoy the things that someone new to Oklahoma City might not know about," said Harris.
In addition to providing guests travel tools and local recommendations, Harris and the Residence Inn by Marriott Downtown/Bricktown are anxious for the arrival of the technology that will, as Harris said, "offer something different to their guests – even something the big, full-service hotels can't."
About Monscierge
Monscierge is an international interaction technology company, specializing in solutions for the hospitality industry. Monscierge builds intuitive, multi-touch user experiences and collaborative interaction software for touch screen technologies. Founded 2009, Monscierge is a privately held company. Their North American office and Innovations Center is located in Oklahoma City, Oklahoma. Monscierge provides services for clients around the world, including J.W. Marriott, Hyatt, Kimpton and Hilton properties. For more information, please visit: http://www.monscierge.com
About Residence Inn by Marriott Downtown/Bricktown
The award winning Residence Inn by Marriott Oklahoma City Downtown/Bricktown is located on the Bricktown Canal in the heart of the Bricktown Entertainment District –– just minutes from Will Rogers World Airport, Tinker Air Force Base and Cox Convention Center and the Oklahoma City Arena, home of the Oklahoma City Thunder NBA. Whether you're traveling to Oklahoma City for business or pleasure, short visits or extended stays, their smartly designed and smoke-free suites with a view of the canal or downtown provide space to work, live and relax. For more information, please visit: http://www.marriott.com/hotels/travel/okcbt-residence-inn-oklahoma-city-downtown-bricktown/
# # #