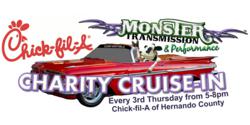 Coming together as a community to help make a difference for a Charity or a Cause.
Spring Hill, FL (PRWEB) April 05, 2012
On the third Thursday of every month Monster Transmission and Chick-fil-A host a car show for the benefit of a Charity or a Cause. In lieu of trophies, the beneficiary will receive all monetary donations raised during the Cruise In. Chick-fil-A also donates a percentage of the revenue generated during the 5:00pm-8:00pm Cruise In time frame and that goes directly to the beneficiary. This is what the Monster Transmission and Chick-fil-A Cruise In is all about. Coming together as a community to help make a difference for a Charity or a Cause.
The Dawn Center was the Charity for the month of March. The Dawn's Center mission is to end the cycle of family violence, abuse and sexual assault - where home is a safe place. Their shelter is open 24 hours a day and seven days a week for women and children that are victims of physical, mental or sexual abuse. Services include shelter, information/referral, hotline, intervention, support groups, court advocacy, service management and community education. All shelter services are provided free of charge and regardless of age, race, marital status, sexual orientation, disability, religious affiliation or income.
At the car show's you can expect to see many classic cars, exotic's and other various custom cars and trucks. Another great detail is that the event is free to both the show vehicles as well as the spectators. Overall, the Cruise-In's have been a great success in bringing awareness to the Spring Hill, Brooksville, Hernando County areas of the wonderful Charities within the surrounding area. Be sure to watch the video of the cruise-in to see interviews with some of the owners about their cars and all of the event activities.
Check out the Monster Transmission Facebook page and give them a thumbs up to stay up to date with their monthly car show's, event's and website special's . Also the Chick-fil-A of Spring Hill Facebook page offers other great events and chikin specials that you just can't pass up.